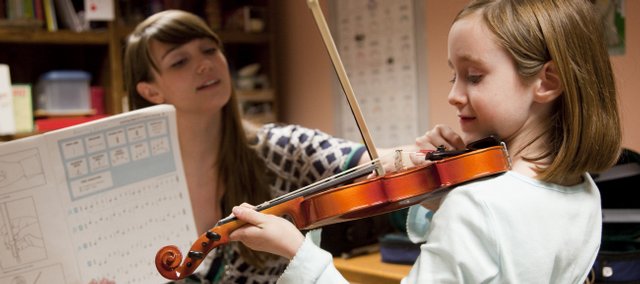 Get involved
To sign up your child for Music Mentors, send an e-mail to mmentors@ku.edu.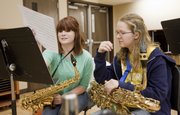 Tatum McCart pulls her half-sized violin out of its half-sized case, her tiny 6-year-old fingers wrapped around it.
Her teacher, Kansas University student Aubrey Wilson, asks her a warm-up question.
"Can you tell me which strings are which again?" Wilson says.
"G, D, A, E," Tatum says, pointing them out.
This is only Tatum's second formal lesson, but she can already play a scale.
"It's fun playing the music," she says.
The pair are part of Music Mentors, a KU student program that provides free music lessons to Lawrence children. In its 10th year, service is growing as more parents learn about it and economic conditions make it more difficult to pay for lessons.
"The kids probably wouldn't receive lessons if it wasn't for us," says Katie Oliver, co-coordinator for Music Mentors. "A lot of people with this economy can't afford that."
Currently, 24 mentors are teaching lessons to about 30 children ages 5 to 15. There are band, orchestra and voice lessons going on. The majority of the mentors are not music majors.
"It's great for the volunteers," Oliver says. "It's easy community service, and it's totally up to them for when to do it."
That's been the case for Wilson, a junior from Shawnee who is in her second year as a mentor. She played violin throughout high school and was in the KU Symphony Orchestra her freshman year. But with other responsibilities related to her majors — French and business — it's difficult to play on a regular basis.
"I was so excited there was someone who wanted to learn violin again this year," Wilson says. "It's one of my favorite parts of my week, going to Music Mentors."
The program was founded in 1999 and is part of the Center for Community Outreach at KU. In 2000, a group of mentors and students were invited to play at the White House.
Johannah Cox, band teacher at Central Junior High School, 1400 Mass., has had many students participate in the program through the years.
"The benefit of a music student working with a mentor or taking a private lesson from a teacher is fabulous," Cox says. "Whether they're ahead, behind or right on target, any time they get a chance to work on individual skills, they'll be a better student."
She notes that private lessons typically can cost more than $30 for a half-hour, making them cost-prohibitive for many students.
"Plus, there's just a bond that forms when you have college kids mentoring junior high kids," Cox says. "It's almost like a Big Brothers Big Sisters kind of thing."
Kathryn Amick, an eighth-grader at CJHS, has been taking lessons from Oliver since February. She recently switched from alto to baritone saxophone, and she says having private lessons has helped with that process.
"We work on a lot of my band music performances and stuff," Kathryn says. "We work on duets, chorales, etudes, stuff like that."
And it probably wouldn't be possible if she had to pay.
"It's really nice having it free," she says. "It'd be really hard if my parents had to pay and stuff. I doubt I'd get to have lessons."
Meanwhile, Tatum McCart is using the program to get a head start on her violin playing. She even has been serenading the family during dinner and often pulls out her instrument when visitors are at her house.
"She loves it," says her mother, Michaela McCart. "It's an amazing service."
— Features/special sections editor Terry Rombeck can be reached at 832-7145.