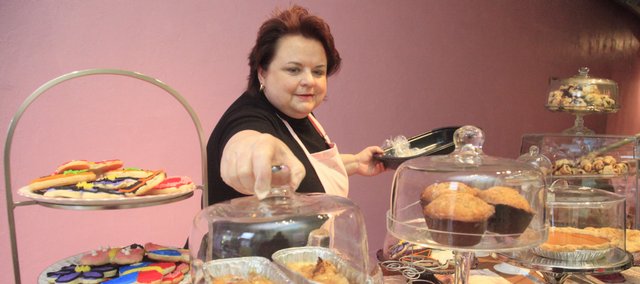 Wednesday, October 14, 2009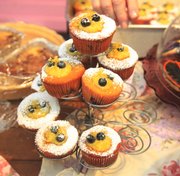 Blueberry-lemon poundcake. Orange-cranberry scones. Sugar cookies with gently frosted faces.
They're all dreams built in butter, sugar and flour for Michele Kaminski — former marketing whiz and current proprietor of Lawrence's newest sweets bakery: The Pink Box Bakeshop, which opened earlier this month.
After 27 years in marketing — including a stint at Mennen where she was responsible for iconic antiperspirant/song muse Teen Spirit — Kaminski dove right into what up until then had been a part-time passion: baking.
For the past two years she had stayed up all night on Fridays to sell sweets each Saturday at the Lawrence Farmers' Market. The feedback was so positive that she decided to make it her full-time occupation.
"I just couldn't shake this," Kaminski says. "I couldn't shake in the last couple months the feeling that this could work. And it was all the feedback from the Farmers' Market."
The result is a mix of sugary pinks and greens decorating a shop with old-time feel. There are no industrial-style bakery cases at the Pink Box, just old-fashioned glass cake stands, a few bread boxes and a wide variety of treats all made lovingly by Kaminski in single home cooking-sized batches.
"I wanted it to be old-fashioned, like pies and cookies and cakes," Kaminski says. "I have such respect for pastry chefs that make those elegant European things — that's not me. It's just old-fashioned, like grandma would make."
From Teen Spirit to pastries
Kaminski, 50, never planned on being a baker. In fact, for much of her life what she cooked up day in and day out was product promotion. In the early 1990s, she worked for antiperspirant giant Mennen, where she helped to develop a line specifically for tween girls — Teen Spirit.
Just a few months into the brand's launch, Kaminski got some worrisome news: A grunge band out of Seattle had used her product's name in a song title. She was devastated.
"The package designer who worked on it with me called me and said, 'Are you sitting down? You're never going to believe this, but there was a song on MTV called "Smells like Teen Spirit." And he said it was by some group called Nirvana.' Honestly, my heart dropped because I thought that was the end of Teen Spirit. Because I knew these little girls, if they were ever made fun of for using Teen Spirit, they would never use it," Kaminski says. "But it ended up going the actual opposite way."
So, instead Kaminski and the folks at Mennen embraced the song and rode a wave of popularity along with Nirvana, whose album, "Nevermind," went multi-platinum while ushering in the grunge movement. Kaminski was a big part of the brand's success, buying book-end ad segments for Nirvana's much-hyped "Saturday Night Live" performance of the song, which has gone on to make several lists of top songs of the 1990s, including ones by Billboard, Rolling Stone and VH1.
Afterward, Mennen was bought by goods giant Colgate-Palmolive, and Kaminski was suddenly in charge of several more brands. To unwind, she baked. Then, after leaving the marketing world behind two years ago, Kaminski turned to selling her goods at the Farmers' Market on Saturday mornings while working a contract consulting job. She decided to set herself apart with cute candy-pink boxes to go along with a variety of rich and moist desserts and breakfast treats. An early convert was Jay Haugh of Lawrence.
"I bought a blueberry strudel the first time," Haugh says. "And then it became a quest of mine to go to the market every Saturday when she was there. I was very happy and I always left with a pink box, or two."
The Pink Box
Kaminski had enough customers seeking her out at the market and for special orders that when her consulting job ended, she dug into her savings and reserves of courage and took what she considers to be a large gamble — opening up a bakery with her own money. But the gamble was worth it to her, because despite hitting the big time in marketing, she has always considered herself a small-business kind of gal.
And as a former marketing executive, she's brutal when it comes to perfecting her desserts. She won't present anything until she's taste-tested it several times. And she doesn't plan on making large bakery-style batches of her goods, because she worries quality would go down as quantity goes up. That's a principle that was driven home to her when she moved to the area 12 years ago to work for Colgate subsidiary Hill's Pet Nutrition.
"I make a batch and then another batch and then another batch," she says.
Because of the limitations of her system, she's been nearly sold out of everything at the end of each day since her business opened, despite having 2,000 cookies and 30 different items on opening day.
And Haugh says she can't get enough, even if she does miss a friendly face at the Farmers' Market.
"Will I go every week? I'm not sure my waistline can take that," Haugh says, laughing. "I am happy to be able to have the choices all week long, not just on Saturday."