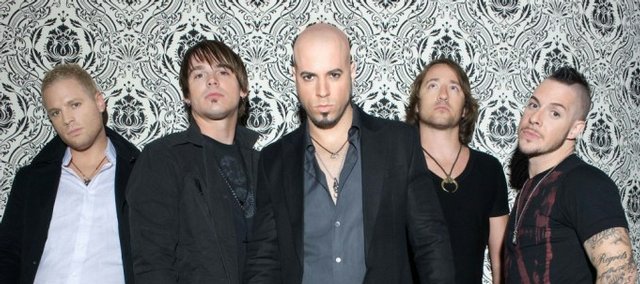 Past Event
Monday, October 19, 2009, 7 p.m.
Kansas Expocentre, One Expocentre Drive, Topeka, KS
All ages / $30 - $40
Daughtry.
Although the name has yet to conjure the singular power of Hendrix or Clapton or Cobain, singer-guitarist Chris Daughtry is well on his way.
Already one of the top-selling rock artists of the decade (his eponymous debut was Billboard's No. 1 album of 2007), Daughtry and his band of the same moniker have racked up multiple Grammy nominations and critical accolades.
Not bad for a fourth-place finisher in season five of "American Idol."
Daughtry is returning to chart prominence with his follow-up LP, "Leave This Town," which debuted at No. 1. It's another "big rock album" filled with mammoth guitars, sweeping power ballads and Daughtry's torrid growl. Rolling Stone says of the record, "His greatness is the way he embraces the full-on rock cheese that runs in his veins."
Calling from his home in Los Angeles (which, according to his biggest hit song, is the place where he belongs), Daughtry is finishing up rehearsal for a two-month tour, which kicks off Monday in Topeka.
Q: Just a few years ago you were working at a North Carolina Honda dealership, and now you're one of the top-selling artists of the decade. Are you the epitome of the American dream?
A: I would have to say yes (laughs). It was my dream. Not everybody has the same aspirations. For me, it's way beyond what I expected.
Q: Have you ever regretted naming the band after yourself?
A: No. It was a necessity, almost. Coming from the show, there was certainly a lot of name recognition. If we would have went with something a little more obscure, it would have been hard for people to get it. I thought it was necessary to keep people realizing what's going on and still be able to consider it a band, like Bon Jovi or Van Halen.
Q: How have the other members of Daughtry dealt with the inevitable reality that you're always going to be the focus of the band?
A: It's easy to focus on that considering it's my last name. But the focal point of every band is the singer, right? They're the ones who almost always do the interviews. They're the face of the band. It's no different with Foo Fighters — you're always going to think Dave Grohl. With any band, the singer is going to be that focal point. From my understanding, the guys are comfortable with that. They know that's their role just as much as this is mine.
Q: Have you ever experienced resentment from anti-"American Idol" fans in the rock community?
A: We never did. Or if we did, we didn't know about it. We were almost instantly embraced by rock bands that we grew up listening to. Bands like Nickelback and Bon Jovi obviously took us out on tour with them. We were very fortunate people saw past that.
Q: How is "Leave This Town" an improvement over your debut record?
A: It's definitely a mature evolution of the band. As far as the songwriting, I think it's evolved tremendously since the last record. Sonically, it's a little different because the guys in the band played on the record. They didn't on the first one because we hadn't had the band together yet. It's a little different, but I think it shows Daughtry in a new way while still being somewhat familiar. It's not completely alienating the fans.
Q: Do the members of your band take more ownership in this record because they played on it?
A: When you're a part of something, it always changes the morale of things.
Q: What's the best advice you've received about playing music?
A: Some of the best advice I've gotten is to not read about yourself. Don't read all the bad reviews and let them get to you.
Q: Do you read the good reviews?
A: Oh, absolutely! I've read a few bad ones, too. But the best thing is to let the fans speak for themselves. The fans are not writing these reviews; it's people looking for something to criticize.
Q: You've already collaborated with a number of notable performers. Do you have a dream artist you'd like to work with?
A: I think it would be really cool to sit with Chris Cornell. Although I'd just be waiting to hear him sing, so it would be like a little mini concert for me.
Q: Any apprehension about turning 30 in December?
A: I haven't really thought about it, but thanks (laughs).
Q: You're often touted as of the best-selling rock artists of the 2000s. Who would you pick as the most influential band or artist of the decade?
A: This is the point where I feel like I haven't been keeping up enough. It would be hard to say. But Green Day stands out in my mind as a group that have been around forever but have only gotten better and better. These last two records they've done are just incredible.
Q: What's been the most unusual circumstance in which you've heard one of your songs being played?
A: Definitely the Chipmunks record — that was the most unusual. Alvin and the Chipmunks just put out a record ("Undeniable") of cover songs. They did "Home," and it was pretty strange.
Q: Is it any good?
A: You know, they gave it their best (laughs).