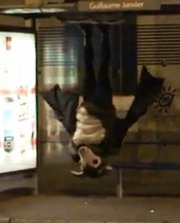 Now that we're on the home stretch to THE ONLY HOLIDAY THAT MATTERS ("Halloween" to the elderly and weak of spine), I'll try to make every Daily Dose this week a celebration of THE ONLY HOLIDAY THAT MATTERS.
We've already done Horror Movie Themed Jack-O'-Lanterns and Dogs In Halloween Costumes…so, like, back off.
Oh, and if you haven't already, check out Sad Rat. I know it's not technically Halloween appropriate, but he IS dead. That's kind of ghoulish, right? Hey...I told you to back off.
Today we have a French guy in a bat costume scaring the crêpe out of his fellow unshaven. What really pushes this video over the top into THE ONLY HOLIDAY THAT MATTERS territory is the use of Ray Parker Jr.'s "Ghostbusters" theme song.
Happy THE ONLY HOLIDAY THAT MATTERS, gang!
French Batman
You know what? I love that song so much, here's a few bonus Doses in honor of THE ONLY HORROR/COMEDY THEME SONG FROM THE '80's THAT MATTERS.
A Capella Version
Lecture Hall Prank
The Real Ghostbusters Intro
Original Ray Parker Jr. Video
More like this story on Lawrence.com