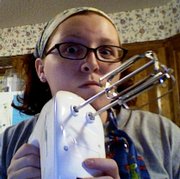 Meagan Rhoads,@into_the_beams, Administrative Assistant for KDOT, enjoys obsessively knitting scarves, baking, and kicking butt at video games
How do you save money?
"I'm a recovering shopaholic. Nowadays you can find me roaming Goodwill and buying my groceries at Checkers or Aldi. With rent and commuting to Bonner Springs every day eating up my money, they come in handy quite a bit. I only have meat when I eat out unless its on sale at Checkers. I also only bring lunches to work. A cheap, guaranteed yummy, made-at-home meal will always beat out fast food in my mind. I've also learned the value of staying in and watching movies or just walking around downtown with friends. Its especially great when you can get them to chip in for a pizza. I also don't have cable, which cuts down quite a bit of spending. Its a little hard sometimes not to go out and buy a neat new game or movie, but when you can start to see the difference between 'need' and 'want,' saying no is a whole heck of a lot easier."
How do you splurge money?
"I think the last thing I really splurged on was a Kitchenaid stand mixer back in March. Other than that, I'll splurge a little bit here and there and buy a bunch of records at Goodwill or pickup some books or DVDs. I also buy a lot of yarn. If I had the money, I would spend it on a new couch. And a new TV to go along with said new couch. My productivity would go down quite a bit, but man would I be comfy."