Wednesday, September 2, 2009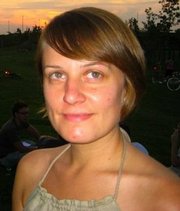 Donika Wiley, artist, has a solo show at the Lawrence Arts Center opening on Sept. 10th, enjoys "looking for lost teeth (not her own), finding creative ways to bail my husband out of jail, and walking my dog"
How do you save money?
"Well, online, by harvesting my crops and animals in Farmville. It's a pretend farm world on Facebook where your friends are your farm neighbors. I can earn and spend money, but without any real affect on my pocketbook. It's virtual money that you earn by planting and selling crops, raising animals, etc. You can actually buy more Farmville money with real money, but that seems stupid. I also save by cooking at home and packing a lunch everyday. I prefer to pack tuna salad, carrots, a water, and maybe chips. I also save by always turning off lights. Oh, and I'm about to go rent a movie at Liberty Hall with a Passport gift card, so that's free. Here's another one—my husband is brewing up some toilet wine that we're going to drink after the movie. He learned that in prison."
How do you splurge money?
"Shoes! The last shoes I bought were a cute pair of boots in Amsterdam. Let's just say I spent too much."