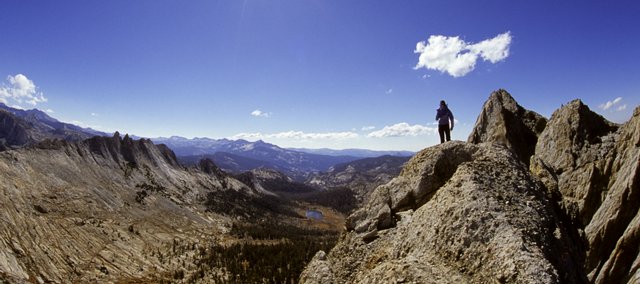 Friday, September 4, 2009
Standing in line is among my least-favorite activities. That's why you'll never find me at Worlds of Fun on Labor Day weekend. No 45-second ride is worth a 45-minute wait in line.
But there are certainly places where standing results in an enjoyable experience. And one Web site is putting that concept to the test.
StoodThere is a site designed to verify the greatest place to stand.
After consulting researchers and travel bloggers, 100 of the "most wondrous, inspiring or thought-provoking locations have been put forward to be voted on by the public as the Greatest Place to Stand On Planet Earth."
Voting commenced in May and runs through December. The categories are divided into four lists: World Top 100 Places, USA Top 100 Places, Europe Top 100 Places and UK Top 100 Places. (StoodThere is based in London.)
Users can vote a thumbs-up or down on a selection, which means the results are always shifting. (The Grand Canyon was recently in the top five but has since departed faster than Chevy Chase in "National Lampoon's Vacation.")
Users are also invited to submit photos of themselves standing at their chosen spots.
Currently, Sydney Harbour in Australia, Edinburgh Castle in Scotland and San Francisco's Golden Gate Bridge are the top vote-getters in the global category.
Personally, I've stood at, in or on 17 of the 100 nominees. For living in Kansas, that pretty good, right?
Sure, a few of my inclusions are pedestrian — the Vegas strip, Times Square — but I'm proud of several others, such as the Pyramid of Giza in Egypt, the ruins of Pompeii, Italy, and the ancient city of Ephesus, Turkey. They weren't exactly easy to get to.
But I noticed something troublesome when I clicked on a map feature of StoodThere, which deposits red dots to pinpoint the worldwide locations.
Virtually the entire United States is covered with these circles, leading them to completely obscure all but one state: Kansas.
From a North American standpoint, we are apparently the black hole of cool places to stand.
The closest actual nominee to Kansas is the Gateway Arch in St. Louis — presently at No. 68 on the U.S. list.
Shouldn't there be at least a few spots in our area that warrant some consideration? The Flint Hills reign among the most scenic points in the Midwest. The floor of Allen Fieldhouse is both historic and quite magical. How about the stage at Liberty Hall?
My favorite local place to stand is probably the counter of the original Arthur Bryant's BBQ.
Oh wait, that's in Missouri ...
— Entertainment editor Jon Niccum explores facets of pop culture that have established a unique niche on the Internet. He can be reached at 832-7178.