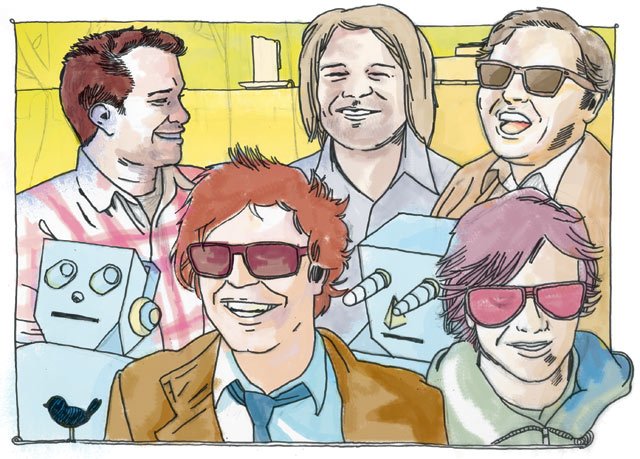 Friday, September 4, 2009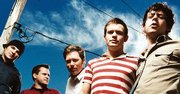 No Lawrence band ever put out an album that sold more copies than The Get Up Kids.
There's also a strong argument to be made that no Lawrence act ever released an album that proved more influential to a generation of young musicians than the Kids' "Something to Write Home About."
"We're not the most successful band in the genre, but some of the people who were into our band went on to be some of the most successful people in the genre," says singer-guitarist Matt Pryor.
Platinum-selling acts such as Fall Out Boy and Blink-182 regularly cite the group and its signature record as an influence. In fact, tabloid mainstay Pete Wentz of Fall Out Boy told Alternative Press in 2005: "There should be a How To Be a Pop-Punk Kid starter kit with bands like Get Up Kids, so kids would know whose shoulders bands like us are standing on."
Album Mp3s

Something to Write Home About
Now to celebrate the 10th anniversary of "Something to Write Home About," Vagrant Records is putting out a deluxe reissue on Tuesday. Bonuses on this edition include:
• A DVD of the band playing the record in its entirety, taped live at Liberty Hall.
• A compilation of old concert footage.
• Bootleg material from the late '90s.
• Photo book.
• A key code that allows users to download original Get Up Kids demos for free.
"I don't know that we thought it was significant when we recorded it. We didn't really think in those terms," says Pryor, who just returned from playing a handful of Get Up Kids reunion shows in Europe.
"We were just happy that we felt we'd made a better album than the previous one."
Also quite happy was fledgling label Vagrant Records, which signed the band despite competing with offers from major labels.
Band songs
Get Up Kids
"It was a landmark record — one of the most important records we ever put out," says Jon Cohen, co-founder of Vagrant Records.
Cohen says there was something "refreshing and vibrant" about the band, which he attributes to the group's emerging songwriting abilities captured on "Something to Write Home About."
"I still listen to it top to bottom — which is so rare these days," he says.
Something big
At the time based in Kansas City, The Get Up Kids headed to Silver Lake, Calif., in the summer of 1999 to record the project.
The Kids — Pryor, guitarist Jim Suptic, bassist Rob Pope, drummer Ryan Pope and keyboardist James Dewees — holed up at Mad Hatter Studios during the day and crashed at a friend's house at night.
"It was fun, but it was labor-intensive. I was really focused on it. Like I passed up Tom Waits tickets to stay in and work on mixing. In hindsight, that was a really stupid thing to do," Pryor says.
The title of the album was suggested by Suptic.
"It was one of those situations where, 'We need to come up with a better album title by the end of the day or we're just going to go with this one,'" Pryor recalls. "Even at the time I thought it was an arrogant title."
With the material recorded, the members began offering their friends a listen to the new mixes.
"I think it was Ryan Pope who burned it and gave it to me, but it could have been Robbie," recalls Jacki Becker, a longtime music promoter who runs Eleven Productions in Lawrence.
"I still have the gold disk that is written 'Something to Write Home About' in black Sharpie. I remember listening to it in my car with my friend Megan Hanna and just being so very excited about how catchy and good it was. ... This record was really right at the beginning of something big musically that the industry had dubbed 'emo.'"
It was shortly after the release of the record that Pryor and the Pope brothers moved to Lawrence. (Pryor considers the band's hometown to be equal parts K.C. and Lawrence.)
Listening back to the record a decade later, Pryor says his favorite track among an album loaded with gems such as "Ten Minutes" and "Holiday" is a more obscure one called "My Apology." He says there are few aspects to "Something to Write Home About" with which he is disappointed.
"The only thing I would change about the record is I would move everything down a half-step or a whole step because I'm basically yelling right at the top of my vocal range," he says.
Something enjoyable
For an album released by a then-obscure Midwest band on a then-obscure West Coast label, "Something to Write Home About" sold astonishingly well.
"I don't know all the statistics worldwide, but it probably did about 220,000 to 230,000 domestically," says Vagrant's Cohen.
"These days it does anywhere between 50 to 100 copies a week, with some digital tracks. For a record that's 10 years old, you could definitely define that as having some legs. It's kind of like talking about the world's tallest midget in terms of what a good catalog sells these days. But it's certainly reached beyond the kids who originally bought it."
Audiences are also still reaching out to see the band live.
In conjunction with the reissue, the Kids are mounting a tour that kicks off Sept. 11 at The Voodoo Lounge in Harrah's North Kansas City. Although The Get Up Kids officially disbanded in 2005, the core lineup returns intact for the 39-city tour.
"I think we sound as good as we ever have," Pryor says. "We really enjoy being on-stage together, and that comes across more now than it used to. We also know how to play our instruments better. Since we're older we don't jump around as much, which can only help your accuracy. It's hard to change your fingering when you're in mid-air."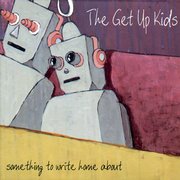 Something permanent?
When the members of The Get Up Kids aren't selling out House of Blues venues around the country, they are still notably active in the music scene. Rob Pope is a full-time member of Spoon. Both Pope brothers continue to run Black Lodge Recording in Eudora (although it is currently up for sale). Dewees serves as touring keyboardist for My Chemical Romance and New Found Glory. And Pryor splits his time between solo albums, his band The New Amsterdams and his children's act, The Terrible Twos.
"I don't think it's possible for this band to be 100 percent full-time. Everyone has so many other projects going on, and we're dealing with other bands' schedules. It's frustrating schedule-wise, but it's also really liberating in that you don't have to feel the pressure," Pryor says.
"We don't need to do this to make a living. We're treating it like it's just fun — which is more like the attitude of when we started: fun."