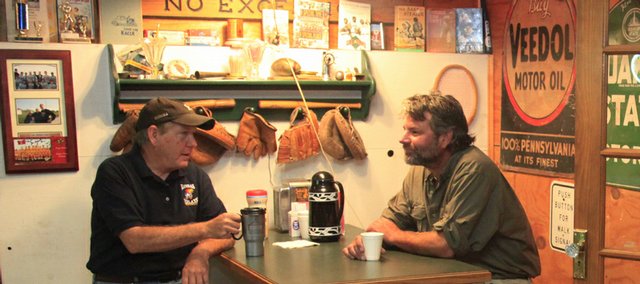 Monday, September 14, 2009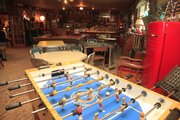 When Steve Jack and his wife were building a house north of Lawrence, they agreed he deserved a dedicated room of his own.
"When we sat down to discuss the design, the architect actually called it the 'rock and roll room' on the plans," Jack recalls.
But what Jack knew was really being put forth was a "man cave."
"It was always my intention that the room have a single voice, so there's nothing there that isn't connected somehow to rock and roll and/or radio — except the couch and chairs," says Jack, a former professional DJ.
"When I go downstairs, I just smile because I'm surrounded by that part of my life that is important."
First entering the lexicon in the early '90s, a "man cave" refers to any dedicated area of the house — typically a basement, garage or attic — that a male can call his own.
For the 58-year-old Jack, the room offers the chance to parade the rock memorabilia that had been sitting in boxes and closets. These include displays of all his concert tickets stubs dating back to his first show: The Righteous Brothers in 1966. And it finally provides a spot for his sequential collection of Rolling Stone magazine, which he began accruing in the '70s.
"I consider it the analog room," Jack says. "We have the flat-panel TV upstairs. But while there is a CD player, we keep my old speakers, tube TV, Sony turntable and 3,000 albums all there downstairs."
Variations on a theme
Custom man caves in Lawrence are more pervasive than one might assume. While they often are dedicated to sports teams such as the Jayhawks or Chiefs (the Royals place a distant third), some stray far from the mainstream.
Among those recommended for this article include one crafted to look like a movie theater, including full banks of theater-style seating, a popcorn machine and a ticket counter entrance; another fashioned to look like a Sunday morning hot rod television show, complete with black-and-white checkered floor and a tomato red lift for oil changes.
But the unifying factor of these various caverns is they all represent a place to gather with friends or escape into a solitary sanctuary of manliness.
Among the most elaborate man caves in the area is one belonging to Ken Waldock.
Housed in a 4,500-square-foot building next to his home north of Eudora, Waldock has created a multipurpose man cave that touches on themes of music, sports and automobiles.
"Any time I want to change a theme, I go shopping upstairs in the attic," he says.
Highlights include gaming tables for pool, bumper pool, foosball, a Bally table hockey game and a 1920s shuffleboard set from the De Soto VFW. There's a jukebox full of 45s and a full stage with amplifiers and a P.A. system where live bands often perform.
"Plus, there's more interesting stuff on the walls than T.G.I. Friday's, Bennigan's and Applebee's," says the 64-year-old retired executive.
Waldock started the man cave in 1993. He frequently allows it and other features of his surrounding property (such as full-size treehouse rooms with heat and AC) to be utilized as a free campground for children.
Central concept
The notion of man caves has proven pervasive enough nationally to launch many Web sites devoted to such enterprises. There's also a popular program called "Man Caves" on the DIY network where contractors build "a refuge for every guy that makes him fulfilled."
Locally, Ken Miller decided to center his man cave around his favorite sports teams. But the Lawrence resident says the concept is as important as the particulars.
"From a leisure-time standpoint, it's the one place where it's all about what I like most. No high culture, no HGTV, no reality shows. (It's) sports, 'Terminator' movies, occasional adult beverages and loud laughter," the 46-year-old explains.
The "Miller Man Cave" boasts a 50-inch projection HD set and a pub table with a wireless laptop to follow sports tickers. Most indispensable to the room, Miller says, is his evergreen sectional couch with three built-in recliners "that everyone despises except me."
Miller adds, "Remember, it's not the toys that make the man cave, it's the man."