Thursday, September 17, 2009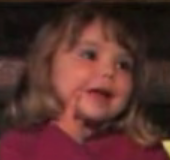 Kids say the darnedest thing, and there's generally an exploitative parent nearby to capture that darnedest thing on video and post it online. Thank you, exploitative parent. If it weren't for you, we wouldn't have plastic surgery for toddlers or Korean kids busting moves. Please, continue to construct compromising situations for your child and shamelessly harvest their innocence for our entertainment. In the future, every child will have their own "Truman Show"! Keep on sailing into that giant Magritte painting that is the television studio of your lives, you little rascals!
Today we have a bevy of little girls to give us the cute tremors. First is Bailey Michelle, who is a Cajun girl that will eat your rabbits.
Next is a spunky gal with a hell of a throwing arm who ruins dad's day at the ballgame. It's the funniest thing to happen to baseball since George Brett's bowels.
And lastly, the quickest game of hide and seek ever caught on camera.
More like this story on Lawrence.com