Wednesday, September 23, 2009
Past Event
Saturday, September 26, 2009, 10 a.m. to 8 p.m.
Broken Arrow Park, 29th and Louisiana streets, Lawrence
All ages / Free - $10
Sitting on the hood of his 1964 Buick Wildcat, cowboy boots propped up on chrome, Robert Lunbom epitomizes the American hot rod mystique.
The pomade-infused hair and reflective aviator glasses only seal the deal. He's a rock-and-roll grease monkey with a muscle car made right here in the U.S. of A — originally forged in Kansas City, no less — who apparently studied at the Fonzi School of Western Iconography. He's an all-American guy with an all-American car. And he's Swedish.
"Being from Sweden, I should have been raised on Volvo and ABBA, but I grew up loving big American cars and Elvis," says Lunbom, an artist who came to the U.S. to study at Kansas University and now lives in Lawrence. "I've been interested in cars my whole life."
Lunbom serves as a Nordic-accented example of how far and deep the culture of the American hot rod has driven. It's a fuel-injected religion with devotees across the globe, from Stockholm to Lawrence.
Photo Gallery
Rev It Up rods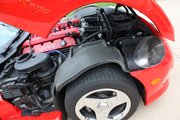 Church will be in session at the Rev It Up car show and music festival this weekend. Live rockabilly bands will serve as the choir, and the pews will be made of steel and rubber. Rev It Up will be a unique gathering of area gearheads showing off their object d'auto-art, including Lunbom and his Wildcat.
Rather than focusing on a single type of car, as is typical of most shows, discriminating based on era or make, Rev It Up is inviting just about anything with an engine to compete for Best in Show.
"We wanted a more inclusive show, so we're having newer sports cars or newer street rods alongside the vintage hot rods," says organizer Stephen Chronister, who — along with his wife, Michelle — founded Rev It Up this year as a fundraiser for the GaDuGi SafeCenter.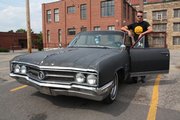 "There are a number of car clubs in Lawrence that have their own individual shows. For example, there's an Antique Car Club of Lawrence that focuses on stock cars and they have their own get-togethers," Chronister says. "I'm a member of the Viper Club, and we show our cars sometimes, but Rev It Up will be the only big, all-inclusive show that I'm aware of."
It should be mentioned that Chronister isn't just the organizer of Rev It Up, he'll also be displaying his 1993 Viper.
"It's the fastest car you can buy in a showroom," he says with matter-of-fact pride.
Another proud poppa showing off his wheeled wares is Lynn Metzger, whose mild custom '49 Pontiac will be making an appearance.
"I customized it like I would have in 1962," Metzger says. "It's got the wide white walls, Frenched antenna, shaved door handles and the side pipes are lowered. It brings back old memories. It's nostalgia, I suppose. It reminds me of high school. I drive it around town, and whenever I'm driving through West Lawrence — which is largely unchanged since the '60s — it's like you fit into that scenario again. It's kind of cool."
It's that emotional, quasi-spiritual attachment which seems to fuel these car cultists.
"The aesthetics are just beautiful," Lunbom says. "The '60s and early '70s cars also have quite a bit of performance, which is nice. I like the rumble. They have a lot of soul. It can't be put into words. They have an aura. You feel cool when you drive them, and it usually brings a smile to my lips."
"Ever since I was 5 years old, I've loved car racing, hot rods — anything loud and fast," Chronister reminisces. "You hear this phrase a lot, but I think it's just in your blood. I know a lot of people that race and they say it's just there in your blood. Cars can be a love it or hate it thing, and I can't pin down why. I just love cars."
In these days of fuel efficiency and hybrids, these connoisseurs of custom cars are perhaps an odd breed — their most prized possessions would be thought of by many as clunkers better traded in for cash.
"It has a 401 cubic inch V8. In town, the gas mileage is in the single digits," admits Lunbom. "It could probably be considered a clunker. I'm all for environmentally friendly cars ... but I think there's room for both."
There's almost a siege mentality among car enthusiasts in this era of a dying Detroit and the decline of rugged American individualism as expressed through automobiles.
"I recently turned 63, and I wonder what's going to happen to the hobby with young people today," Metzger muses. "It used to be, when I was a young man growing up, the car was an extension of yourself. You were really proud of it, modified it, and kept it in the best condition you could. It seems like there's not as much interest now. Will it die out?"
Not everyone is concerned that modding will completely go out of style, however.
"Kids are souping up their little Honda Civics," says Chronister with a touch of bemused disbelief. "The older generation of hot rodders might look down their noses at what the kids are doing with their Asian imports, but it's still the same thing: the need for speed. That's the bottom line. The second thing is to make it look cool and personalize it. You can make a personal statement with your car. The cool thing about a hot rod is you can make it the most unique thing in the world."
Maybe, just maybe, Rev It Up will help reinvigorate the ranks of the faithful.
"A lot of people don't like car races because of the noise or don't get the whole thing about sitting there and watching cars go round and round on a track for four hours," says Chronister.
"Most of the cars at Rev It Up, though, are just beautiful," he says. "They're cool, slick works of art. Even non-car people can look at an old hot rod and say, 'That's cool.' Maybe we'll make some converts and people will gain some appreciation from that beauty."