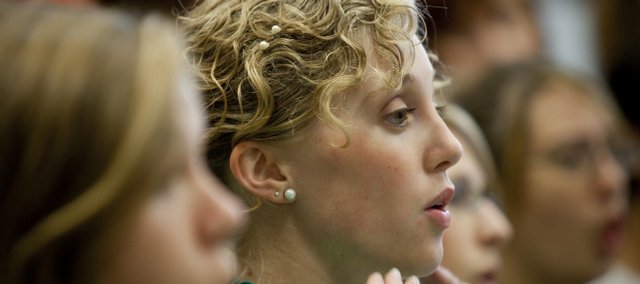 Tuesday, September 29, 2009
Q&A with Megan Bracciano
School: Senior, Free State High School
Parents: Tom and Diane Bracciano
Favorite music-related memory: Playing 'October' by Eric Whitacre at the Lied Center in February of 2008 with the combined Free State and LHS Symphonic Bands.
Greatest artistic achievement: It's not an official achievement, but I would have to say the closet to a life-changing achievement would have to be learning piano. From there all of my doors opened for my music and it made me want to keep exploring.
Favorite piece of music you've played: My favorites include 'Machu Picchu: City in the Sky' composed by Satoshi Yagisawa (band) and 'Four Hebrew Love Songs' composed by Eric Whitacre (choral).
What music do you listen to in your free time: I actually listen to classic rock, oddly enough. I really enjoy listening to Boston, Led Zeppelin, The Eagles and a little of Aerosmith and Kansas, or anything that comes on my radio station.
When you're not in school or practicing, what do you do? There's not much I do outside of practicing and school. I love watching new (and old) movies, and back when I had free time, I would consume books by the dozen. Socializing is always nice, as well!
What's your biggest goal in life, in terms of music? My biggest goal would probably be to spread the notion of following your heart when it comes to careers and giving others the opportunity to pursue music and the beauty that lies there as an inspiring, hard-working and knowledgeable music teacher in a high school setting.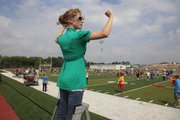 ART STAR
The ArtStar program, co-sponsored by Jayhawk Dental and The World Company, recognizes seniors in Lawrence high schools who demonstrate outstanding achievement in the fine arts. Honorees also must excel academically.
Nine monthly winners (September-May) will be selected via nomination by fine arts teachers and featured in the Journal-World and on 6News.
An overall winner will be chosen from among those and designated ArtStar of the Year. The annual award will come with a scholarship.
For more information, contact Terry Rombeck, Journal-World features/special sections editor, at trombeck@ljworld.com or 832-7145.
In fourth grade, Megan Bracciano's parents hauled an old piano that had been sitting in her grandmother's house into their own house.
Her mother played some simple tune — they don't remember which one now.
"I said, 'Show me how to play it. I want to play that, too,'" Bracciano recalls.
The rest is musical history.
Bracciano, now a senior at Free State High School, went on to learn a variety of musical skills and now is looking into a career as a music teacher.
She's also the first ArtStar for the 2009-2010 school year. The award is sponsored by The World Company and Jayhawk Dental.
"It's my homework. It's my life. It's everything," Bracciano says of music. "A lot of people will say 'Music is my life," and for me, it actually is. I'm living it all the time."
Typical days start at school at 7 a.m. for a zero-hour independent study for flute performance. The rest of her day is filled with four other music classes, including music theory, Women's Choir, Chamber Choir and Marching Band.
She's worked her way up to being a leader in Women's Choir (where she's a student conductor) and Marching Band (where she's one of two senior drum majors).
It's especially amazing because she came to music at a relatively old age. She started teaching herself to play the piano in fourth grade (she only had her first lesson earlier this month), didn't start singing until seventh grade and didn't pick up the flute until eighth grade. She started playing tenor saxophone in Jazz Band in high school.
"It kind of exploded on me," she says. "I suddenly had a lot of things I wanted to do. My mother jokes that I'm a jack of all trades, master of none."
Hilary Morton, the Free State choir director, would beg to disagree.
"She's very mature for her age," Morton says. "She loves music, which is obvious, but she's so passionate about it. She wants to clarify and wants to make sure she's doing it right, and she just lets go.
Sometimes kids worry so much about what they sound like, or they get caught up with the technicalities, and she just opens up and lets her heart out when she's performing."
Bracciano says her musical experiences build on one another.
"I've heard a lot of people say it, if you know one instrument, you know the others," she says. "If you can count, if you can read it, if you can play it on one instrument, you're pretty much set for everything else. For piano, if you can read the bass clef, you're basically set for the other instruments that are bass clef, if you can figure out the fingerings and how to play it with your mouth."
Her diverse musical tastes might be best exemplified by her answer when asked about her favorite musical experiences. She has two: being in Marching Band, and being in Chamber Choir — two groups that are far different in the musical spectrum.
About Marching Band: "I remember in eighth or ninth grade, they told me I move too much in choir. I was moving too much — I got too much into it. You can use that to your aid (in Marching Band), you can get it the steps right and everything. It was so much fun. I love being a drum major, but I miss the marching aspect so much."
About Chamber Choir: "You have a bunch of people who really believe in it, and who all really, really want to be here and love the music. They didn't just sign up for Chamber Choir, they worked to get in it."
Bracciano is tentatively planning to attend Kansas University next falls and wants to be a music teacher, though she's not sure if it will be on the band or the choir side. With a 3.9 GPA and a 31 on her ACT, she says she's had people tell her she should do something more "productive" with her life.
But she likes the variety that comes with teaching.
"It's really good for me, because I have those different avenues to channel my different passions," she says. "I don't know what I'm going to do, because I want to be a music teacher, and I love choir, but I love the marching band aspect, but I love the jazz band aspect. I'm going to pick a path and hope one makes me happy."
Morton, the choir teacher, says Bracciano has the dedication to inspire a new generation of music students.
"Not a lot of kids her age spend a lot of time practicing," Morton says. "They go, 'Oh, I want music to be fun, and if I spend a lot of time doing it, it's not going to be fun.' She knows she has to practice to get better, and she cares about it.
"I really do think Megan will be a masterful teacher, because she has that passion and she will ignite a band or choir full of students. I think really one of her biggest assets is her passion."