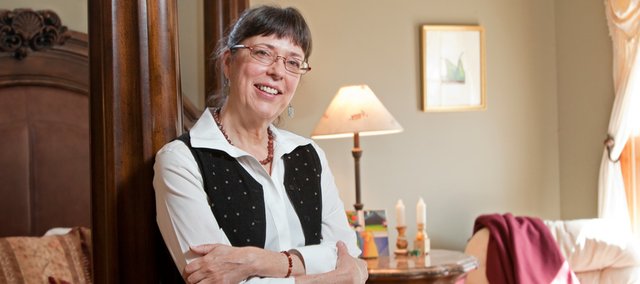 Photo Gallery
Feng shui with Betsy Forcade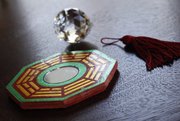 With her divorce several years behind her, Genevieve Hangen was ready to give love another chance. But not, necessarily, by leaving it to chance.
"For a long time, even though I said I was ready for a relationship, I knew that I wasn't, at some level," Hangen recalls. "Then came the day when I realized I was. So, I called Betsy and said I want to create a physical, symbolic, grounded manifestation to draw in this relationship."
Betsy Forcade practices the ancient Chinese belief system of feng shui that studies the ebb and flow of energy — called chi — in the environment. Practitioners believe you can arrange your home or work environment to complement, enhance and support your life goals.
Using a gridlike tool called the bagua, feng shui followers map out a house or a room into eight areas, each one representing a specific area in life such as "Health & Family," "Fame & Reputation" and "Wealth & Prosperity."
Forcade, whose consulting business is called "Practical Magic," focused on creating new energy in the "Love & Relationship" area of Hangen's living space, which can be found in the back right-hand corner of a house or a room, according to the bagua.
"The screened-in porch, which was in that corner of Genevieve's home, was in disrepair," Forcade explains. "There was a broken loveseat that also needed painting, so she replaced it with other furniture. Everything was in pairs, which symbolize union. She had a pair of little chairs in one area, then two pairs of Adirondack chairs. She also put crystals up to activate the energy."
Then, Forcade, whose consulting fee is $80 per hour, and her client set their sights on the master bedroom.

"In the love and partnership corner of the bedroom, she put a picture of a pair of pears on the wall, then two candles on the nightstand, another pair of animals and a crystal to activate the energy," Forcade says. "It was simple and elegant."
Hangen even went so far as to purchase a second nightstand to flank her king-sized bed.
"You need to have pairs of tables by the bed," Forcade explains. "Matching tables and matching lamps are really important because that symbolizes equity in a relationship, an equal partnership."
Hangen also wrote her intentions for a new romantic relationship on pieces of paper and placed them inside an armoire in the far right corner of the room.
That was in September of 2007. By December of that year, Hangen had met the man of her dreams.
"I had been using an Internet site already to allow people to be brought to me," Hangen explains. "I'd been responding to matches and talking to people, but nothing had really happened. So, we did this, and then somebody came up (online). My rule had always been to wait for them to contact me first but, this time, I actually reached out to him."
Dana Niemack, Lawrence, who practices feng shui in her interior design business, Free Spirited Living, isn't surprised by Hangen's success story.

"Feng shui is just a tool I use to help people create the atmosphere that they want," she says. "And it can work. It's very powerful.
"For instance, a client of mine had some very unfriendly neighbors," Niemack explains. "I suggested she hang double-sided mirrors on the outside of her house to reflect their negative energy back to them and to keep her positive energy for herself. Within the next few weeks, her neighbor was out in his driveway and spoke at length to her in a friendly manner as she walked by to get her mail."
Niemack says simple "cures" like mirrors, wind chimes, water fountains and crystals, placed strategically, can change bad energy to good and increase the flow of the chi through a home.
"Color is key, as well," she adds. "It's very important. The colors that you choose for your furniture, your drapes, your walls are very powerful."
The baqua suggests various colors for different areas of the grid. Red, the fire color, is recommended in the "Fame & Reputation" area, while blues and greens are advised for "Family & Health."
Niemack adds that before people even consider rearranging furniture or painting walls, they have to perform one, often monumental, task.
"Decluttering is the number one thing. You have to do that first because feng shui is a reflection of your inner self. What you do to your outside surroundings is a reflection of what's going on inside of you. If your house is cluttered, your emotions are cluttered inside," she says.
Skeptics might claim Hangen's love story or Niemack's tale of two neighbors are merely coincidence, events that would have occurred regardless of interior design or space alignment.
To that, Forcade says, "I think there's something about the process of feng shui that helps you make changes in your head about stuff. Even if it was a condicidence, I think the fact that Genevieve did this and put thought into it, to manifest what she wanted, is good for her. I think it's good for her inside."
Hangen, who is moving to the Washington, D.C., area soon to marry the man she found with a little help from feng shui, couldn't agree more.
"I believe intention is more than half the battle. I also believe the intention isn't complete until you actually do something. And, working with Betsy, I had a witness of my intention. I couldn't wimp out and say, 'Well, maybe I only sort of wanted it. I've gone out and bought a table, I've hung pictures.' I actually took actions and made a commitment."