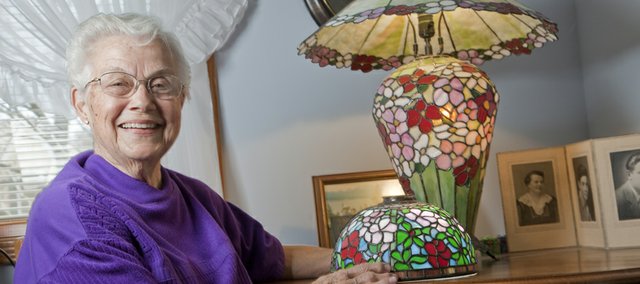 Remember how fun it was to make masterpieces using paint-by-numbers kits? You know, where you'd create a detailed painting by filling in the pattern with just the right colors?
There's an adult version. Sub the paints for glass, and you've got the grown-up's paint-by-numbers: stained glass.
Now, no one would confuse a fridge-bound tempera masterpiece with the ornate windows at a cathedral, but there in the middle ground are stained-glass workers like Frieda Culbertson.
Culbertson started working with stained glass two decades ago and has made everything from light-catchers to lamp shades to, yes, stained-glass windows.
"It's just one of those things you just kind of get hooked on," says Culbertson, of Lawrence. "When I first started doing it, my husband was still working. He'd come home and say, 'Are we going to eat tonight?' And I'd have to say, 'Well, it's kind of addictive. I'll just do one more piece, one more piece.'"
Walking into Culbertson's Lawrence home, evidence of her hobby is clear before crossing the threshold: The front window is a blue-patterned stained glass. Go through the door and there's a stained-glass lamp next to the entrance. Peer into the living room and there are a half-dozen light-catchers, twinkling in a large picture window. Lamps abound throughout the house — including beautiful spherical hanging lanterns as well as lamps small and large.
Getting started
Doug Bearden is the owner of Bearden's Stained Glass in Overland Park. His family has been selling stained-glass supplies and patterns for nearly 40 years. He says with an investment in basic tools, it's easy to have a hobby that saves you 80 to 90 percent off retail and isn't too expensive to maintain.
"You can probably get set up for anywhere from a couple of hundred of dollars — $200 to $300 — just depending on how good of tools you want to buy," Bearden says. "I'd say if you want to compare it to woodworking, you can buy all the (stained-glass) tools for what you'd pay for one saw."
Both Culbertson and Bearden recommend taking a class to learn how to properly cut, smooth and solder stained glass and to get comfortable with the materials. That said, the very basic steps for making any stained-glass piece, from a tiny window catcher to a giant showpiece window, are the same:
Choose your pattern.

Choose your glass colors.

Cut your glass according to the pattern by first scoring it into the desired shape and then breaking it.

Smooth your glass' edges.

Solder the glass together using a soldering iron, flux and copper foil or another metal.
That's it.
"It's relatively easy to do, it really is," Bearden says. "Many people think you have to be artists to do it, but you don't. It's like putting a big jigsaw puzzle together, except you've got to cut out the pieces."
Playing artist
Those basic steps and several hours in her basement workshop have afforded Culbertson with many a gift for family and friends and even a few award ribbons from glass competitions.
And though Culbertson says she hasn't sold any of the pieces she's made, Bearden says that many of his clients do make a living off of churning out stained-glass pieces — with lamps like Culbertson's going for hundreds of dollars or more. And many stained-glass workers also transition into fused glass jewelry to reach a whole new customer.
"It's definitely something they can do as an income source," Bearden says of his clients. "Glass as a medium, there's just so many different directions you can go with it, and that's kind of the neat thing about it."
More like this story on Lawrence.com