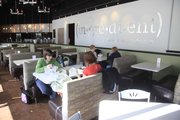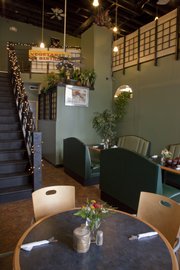 Steve Kerner hasn't let the recession set his business back.
In fact, he's used it to his advantage.
Kerner, owner of Ingredient, opened a new restaurant on the Country Club Plaza in Kansas City, Mo., in January.
The Plaza location is the fifth Ingredient restaurant. He opened his first in 2007, at 947 Mass.
Opening a restaurant is a challenge in any economy. But in an economic downturn, it can be especially difficult, though some local restaurant owners have proven it's not impossible.
The economy has allowed Kerner to negotiate affordable prices on his properties and helped him grow his business across the region.
"The economy is definitely leaning toward a renter's/leaser's market," Kerner said.
While low rent helps cut costs, his restaurant must generate interest from customers to be successful. Before opening a restaurant, Kerner researches whether the demographic of the area might be receptive to the food and atmosphere of the restaurant. Kerner credits the success of Ingredient to its wide selection of food and affordable prices.
The restaurant also employs a policy that's practically unheard of in the food industry — no tips allowed.
Because the restaurant doesn't offer full table service, Kerner said tips left by customers were initially given to charity. Then he decided to eliminate tipping altogether and instead encourages patrons to do a good deed for someone else, such as putting change in an expired parking meter, donating to charity or even just saying hi to a stranger.
"Basically we have a pay-it-forward type of statement on our menu," he said. "I think that's been positive in the economy."
Another element working in Kerner's favor is the growing recognition of his business. Because his restaurants have become so popular, Kerner is able to negotiate better prices on the décor of the restaurants. Instead of merely ordering décor and relying on a middleman, Kerner goes directly to the manufacturer to lower costs.
Like Kerner, Nancy Nguyen isn't new to the restaurant industry. Nguyen, who opened the Tenth Street Vegetarian Bistro, 125 E. 10th St., last November, also owns downtown eateries Angler's Seafood House and The Orient Vietnamese Restaurant.
Nguyen realized the drawbacks of opening a restaurant during a recession, but relied on friends and customers for support and strength.
"I knew a lot of customers, and a lot of people like my food," she said. "That reason encouraged me to do it. I knew it would be tough but I had to try."
To save money and help her business thrive, Nancy hasn't been able to hire a full staff. Instead, she assumes many roles, from managing the restaurant to cooking to greeting and seating customers.
"It takes a lot of patience," she said. "You have to do it to cut the costs and make it work. It's a hope to survive in this economy."
Nguyen noticed customers who previously came into her restaurant three or four times a week have cut back to eating out once per week.
"People have a limited budget," she said. "They just can't afford it like before."
Advertising has also been more of a factor than ever before, Nguyen said. She said it's necessary to promote the business as much as possible to attract customers.
Matt Hyde, co-owner of 715, 715 Mass., which opened in October 2009, found the concept for the restaurant to fit perfectly with the recession. He and co-owner Michael Beard wanted the restaurant to be more value driven than fine dining.
"We worked at restaurants that were more expensive in the past and we wanted to do something people could afford," Hyde said. "It was important to us that people could come here if they were paid an hourly wage. Handmade food should not be for just wealthy people."
Unlike Nguyen, however, Hyde said he believed that going out to eat is one of the last things people cut when the economy gets tough. Instead, they change the way they dine out.
He says people share food more, and take a genuine interest in what they are eating. They also are more adventurous with their food selection.
"People say if they are going to spend $50 going out to eat, they want to try something different," he said. "They make more of an effort to learn about the food and wine. They try to make it more of an experience than just a meal."