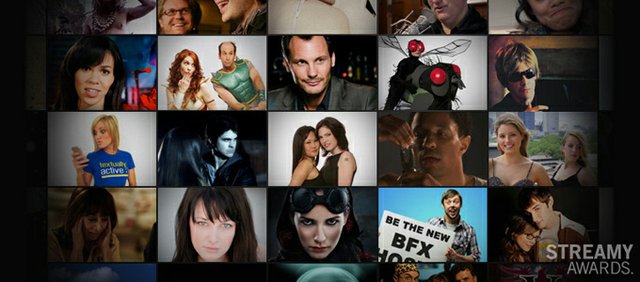 In the entertainment industry, there are awards for everything.
Grammys, Tonys, Oscars, Golden Globes, People's Choice Awards, Kid's Choice Awards, etc. Virtually every category having to do with entertainment seems to warrant a ceremony, which is inevitably broadcast on TV.
But until recently, one burgeoning arm of the industry was completely ignored. Things can change quickly.
On Sunday, the second annual Streamy Awards were revealed during a gathering at the Orpheum Theatre in Los Angeles. The evening was dedicated to honoring the best in Web television programming.
True, there was no actual TV coverage of the event — just live, online exposure. However, that's kind of the point, right? The independent Web community should be considered its own thing, with its own unique voice. It's not just a bunch of failed network sitcoms that were posted online as a last-ditch effort for recognition.
A few months ago I'm not sure I would have believed that ... until I started poring through the list of winners.
Some of these sites/programs I've covered before in Net Worth, but others were new to me. It's hard to argue with the quality of the victors in the 19 Streamys categories, as picked by the International Academy of Web Television.
Topping the list is a familiar (though unwieldy) name: Zack Galifianakis.
Best-known as the clueless brother-in-law in "The Hangover," Galifianakis won the Comedy Web Series category and as Best Male Actor in a Comedy Web Series for "Between Two Ferns." The hypnotically hilarious project is part of the Funny Or Die site, and it features Galifianakis literally seated between two ferns on what appears to be the set of a cheap public access television program.
In four-minute segments, Galifianakis interviews stars such as Jon Hamm, Natalie Portman and Conan O'Brien. But he does it in the guise of a clueless, arrogant moron, who delivers non sequiturs and abrasive questions bordering on harassment.
The most recent entry involves his interview with Ben Stiller (who he refers to as Stifler a la "American Pie"). At one point after Stiller has adopted a brief Southern accent for a joke, Galifianakis says, "Are you making fun of the South? Those people down there wouldn't like that. And they're stupid enough to go to your (expletive) movies."
He finishes the interview by asking Stiller, who is the son of stand-up team Jerry Stiller and Anne Meara, "Do you wish that you had ever followed your parents into comedy?"
Other Streamy winners worth perusing include "Auto-Tune the News," which landed the award for Best News or Political Series award. The brainchild of the Brooklyn band The Gregory Brothers, the site takes real video clips of politicians in their natural element and digitally manipulates them so they break into song. One recent post turns an actual United Nations assembly into a musical about universal health care. "We can smell the hope," the faux chorus implores.
Also excellent is "Back on Topps," which earned the Best Branded Entertainment Web Series. The show is sponsored by Topps and Dick's Sporting Goods, resulting in a weird mix of cutting-edge sitcom and product placement.
The premise involves twin brothers Leyland and Leif Topps (played by twin comedians Jason and Randy Sklar) dealing with a hostile takeover of their family's trading card company. The current episode involves the brothers marketing a set of Obama household trading cards, while dealing with the fact their personal stalker just inherited a stalker of his own — both of whom keep popping up in awkward social settings. Sound bizarre? Indeed.
Now if I can only get that award show going that honors columnists who write exclusively about wacky stuff on the Internet.
— Entertainment editor Jon Niccum explores facets of pop culture that have established a unique niche on the Internet in Net Worth. He can be reached at 832-7178.