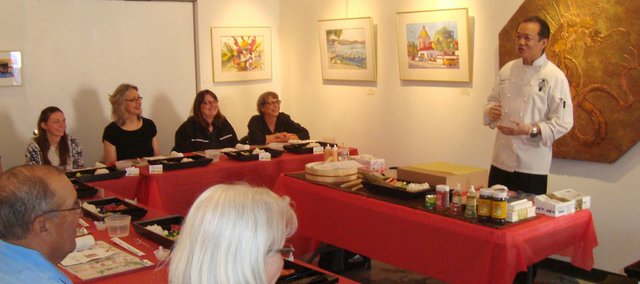 It takes 30 minutes to an hour to learn how to make sushi, but it takes years to master the combination of ingredients, flavors and colors.
Tatsu Miyazaki, a Japanese chef and former instructor who has operated and owned restaurants all over the world, hosted an introduction to sushi-making session April 10-11 at the 1109 Gallery on Massachusetts St. The event was sponsored by the Lawrence Art Guild as part of its "Art is Zen" exhibit.
"We wanted to do something for the community and thought it would be fun to incorporate it with our "Art is Zen" exhibit," gallery director Linda Baranski says.
While sushi is becoming more and more popular across the U.S. — especially in the younger generation — Miyazaki says people are still cautious of sushi.
"Many times people get scared because of the raw fish, but really all sushi needs is seasoned rice," he says.
With so many ingredients to choose from, Miyazaki says people should be patient when learning to make sushi and use their imagination to create their own flavors.
He also says people need to be careful not to stuff too many ingredients so the sushi will not roll properly.
"Sometimes your eyes are too big. You put too much in the roll and it looks like a taco instead of a burrito," he says.
Ingredients:
Short-grain rice (long-grain rice does not stick well enough)
Rice vinegar
Nori seaweed (toasted seaweed sheet)
Sesame seeds
Soy sauce
Salt
Sugar
Wasabi powder
Pickled ginger
Seafood and vegetable for filling (raw fish must be salt-water fish like tuna)*
*Miyazaki used raw tuna, smoked salmon, cooked shrimp, cucumber and avocado
Utensils:
Hangiri (tub) with water
Cutting board
Rice container
Bamboo rolling mat
Rice spatula
Paper fan
Cotton cloth
Cooking chopsticks
Stainless mixing bowls
Sharp knife
Making sushi rice
l 3 1/2 cups short-grain rice
l 4 cups water
l 8 tablespoons rice vinegar
l 3 tablespoons sugar
l 1 tablespoons salt
Wash rice and let drain for an hour.
Cook rice with water in rice cooker or pot with tight-fitting lid; bring to boil over medium heat.
Boil of high heat for 2 minutes. Reduce heat to medium and boil for another 5 minutes .
Cook on low heat for 15 minutes until all the water is absorbed.
Remove from heat, Let stand for 10-15 minutes .
Combine rice vinegar, sugar and salt and stir.
Empty rice into tub and mix rice by using slicing motions with spatula, slowly adding vinegar mix.
While mixing have a friend fan the rice for several minutes until it reached room temperature; set a side until ready to use.
Making the different kinds of sushi :
Nigirizushi
Take a handful of rice a little bigger than a ping pong ball and form a cylindrical shape in your hand.
Place ingredients, often salmon, tuna or another fish, on top and squeeze in the sides where the fish in draped over
Handroll sushi
Take rice — not more than the size of a ping-pong ball — and spread in a triangle shape on one side of the horizontal nori, or seaweed sheet.
Place preferred meats and vegetables on the rice in a vertical fashion.
Roll nori into a cone shape so it looks like a bouquet; use a little rice to seal the cone.
Makizushi
Skinny roll
Spread about 1/4 inch of rice on horizontal nori, leaving about a 1/2 inch uncovered at the top.
Spread ingredients horizontally across the middle of the rice.
Place the nori with rice and ingredients at the bottom of the bamboo mat; roll from the bottom until reaching the uncovered top
Dab water on uncovered portion, unroll the bamboo mat then finish rolling sushi completely.
California roll
Use more rice than the skinny roll and spread all over the nori; sprinkle sesame seeds on top of the rice if desired.
Place plastic wrap on top of the rice and flip over with uncovered nori facing up.
Make indention horizontally across the middle of the nori, then fill indention with desired ingredients.
Roll with bamboo mat from bottom to top making sure not to trap any plastic wrap in the sushi and push on top and sides to secure ingredients inside.
Unroll and cut with plastic on so it does to fall apart, but use caution not to cut little plastic pieces in the sushi.
— All instructions from Tatsu Miyazaki