Forty years ago the burning of the Kansas Union made headlines around the world, but it was just one of many acts of violence, protest and unrest that Lawrence would see that year.
April 8
Abbie Hoffman, leader of the Yippie movement, spoke to a crowd of 7,000 at Kansas University's Allen Fieldhouse. After receiving a lukewarm reception and being heckled, he told the crowd "this place is a (expletive) drag. I'm going to Dallas, Texas."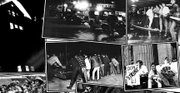 Forty years ago today, the Kansas Union burned. What followed was a year of violence and destruction not seen since Quantrill's Raid. While the unrest has long since dissipated, the memories remain.
April 13
To draw attentions to their demands, 50 black youths locked themselves in the Lawrence High School's main office. The group was protesting the lack of black cheerleaders and homecoming court members and wanted more black teachers and an expanded black studies curriculum. Two days later violence broke out, sending five students to the hospital.
April 20
An arsonist set off a $1 million fire in the Kansas Union. No one was ever charged with the crime. In the three nights that followed, Lawrence was placed under a curfew as snipers shot at fire trucks and police. Fires were set throughout the city. Violence continued at the high school, and police used tear gas and mace to control protesters.
May 8
The U.S. invasion of Cambodia and the deaths of four students at Kent State University in Ohio put Lawrence on high alert. More than 13,000 students filed into Memorial Stadium, where Chancellor Laurence Chalmers announced the university would stay open. Students had the choice of finishing the semester, going home or participating in workshops and activities.
July 16
Rick "Tiger" Dowdell, a 19-year-old black man, was shot and killed by a Lawrence police officer in an alleyway off Rhode Island and Ninth streets. Bombings, shootings and fires followed. During the fifth straight night of violence, Nick Rice, an 18-year-old white man from Leawood, was shot and killed by police on Oread Avenue just off KU's campus.
Dec. 11
A bomb exploded in Summerfield Hall. Three students were injured and the university's nerve center, the computation center, was damaged. Four days earlier, a 22-year-old white KU student was shot as he attempted to stop two black men from spraying the word "strike" on Watson Library.
More like this story on Lawrence.com