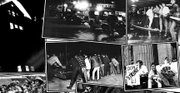 Forty years ago today, the Kansas Union burned. What followed was a year of violence and destruction not seen since Quantrill's Raid. While the unrest has long since dissipated, the memories remain.
Bruce Hogle
There's a saying, "May he live in interesting times". Indeed, 1970 was a very interesting time at KU for me. I was an Air Force ROTC graduate, studying in the MBA program. The class was almost half former military, and I argued with them against confronting the crowd who broke windows in the ROTC building. A Stephen Dowdell had been a classmate of mine at Lawrence High (class of '65). That summer, I stumbled onto two KBI agents, on the top floor of the Student Union, taking pictures with a telephoto lens of people coming and going at the bar immediately north
across the street.
The evening of December 11th, I was working in Strong Hall at the University Information Center, informally known as "rumor control", the night the bomb was exploded at the computer center in Summerfield Hall. A PhD candidate, with an office on the lower level, had stopped by around 7 PM just to see who was working that night and to chat for a moment. He happened to be someone I was acquainted with as he'd been my instructor for a freshman computer class and was also a client of my Dad's.
Later that evening there was a knock on the door. It was that same student. Someone had called the computer center to let them know a bomb was set to go off, and someone in the center called the student, who in turn dashed upstairs to tell me what they knew (which was very little at that point) so I'd be able to answer questions once the phone started ringing off the hook.
Shortly thereafter I could hear sirens as the fire trucks and police cars raced to campus. The phone rang. I answered. The voice said, "This is Larry Chalmers. I hear sirens on campus. What's going on?" I told him what I knew, that a bomb had been set off at the computer center. Obviously, the Chancellor was stunned and shaken. After what seemed an eternity, he composed himself and told me he was going down to Summerfield Hall and would call me with an update. True to his word, he did call back 20-30 minutes later and filled me in on the few new details he had gathered.

A co-worker who lived off campus heard the sirens and could tell they were headed for the campus, so she hitched a ride up to campus to come in and help me answer the phone because she knew I'd be swamped with calls. The rest of that night was a blur for me. Yes, it was a very interesting year.
DB Ashton, County Cork, Ireland
On April 23, 1970, I was a U.S. Army First Lieutenant at my unit's base camp between Saigon and the Cambodian border, kicking back from an end-of-tour project writing and editing a memoir of my division in Vietnam. (It's still in reprints.) My mates knew I intended to return soon to Lawrence to continue undergraduate studies at KU; I'd claimed that if there was a peaceful campus left in the States, it would be there in Kansas.

My best pal, who was later to win five Emmys as Ted Koppel's producer at Nightline, strolled into my office hooch, grinning madly, and slapped down a copy of that day's Pacific Stars & Stripes, flipped to the back page. There was a snapshot of the Kansas Union, on fire.
Seven days later, I was on my way toward Cambodia, to establish and administrate the forward base camp for the invasion press operation. From a military point of view, taking a few steps across a line on a map to deny the North Vietnamese Army sanctuary was an eminently sensible plan. Politically, it was epic. The press poured in; I had some 400 media reps on my hands over less than a week, rabid for transportation and information.
Three months later, I was close by when Lawrence police shot Nick Rice in front of the Gaslight. Nick and I were from the same neighborhood in suburban Kansas City. Summer school had begun on a Monday, I left Vietnam on Tuesday and was enrolled in nine hours and in class on Thursday, already well behind. (Before the next summer, I would bag a brutal 55 credit hours.)
Back in the "world" for only a few days, my next-door neighbor, a grad student in psychology with a police scanner, urged me to come with him up the Hill to check out the developing scene on Oread Avenue. We walked through a police ambush. I was stopped, and questioned. The officer, with some hostility and anxiety, asked what I was doing there. I said I had just gotten off the plane from Vietnam and was wondering what the war was like back home. "It's no damn different," he replied.
A couple of days later, I was in the Kansas Union having coffee with acquaintance Barkley Clark (who was later to become Dean of the Law School), a student leader (probably the immediate past student body president), and Larry Chalmers. Barkley asked the Chancellor what he'd been up to while the police were firing shots on Oread. Mr. Chalmers said it was customary for Time or Newsweek (I forget which) to put public figures like himself on some kind of retainer, as stringers. So he said he'd been in his study writing a dispatch for a weekly news magazine. I was under-impressed that the first reaction of the CO of my new unit, under fire, was to stay home and grab a pen.
Thorold (Tod) Roberts, Sarasota, Fla.
I served as Chief Probation Office of the Douglas County Juvenile Court that summer of 1970, in an interim post while away from my regular job of teaching English at Western Michigan University in Kalamazoo MI. It was a kind of baptism by fire. The court was in the middle of all the violence, anger, and confusion of Lawrence that summer. Even I, a mild-mannered college teacher in my everyday life, had death threats against me and my family.
I obtained a .38 caliber pistol and learned how to shoot it under the questionable guidance of my colleague, a temporary probation officer and gun fancier who had just completed law school at KU a few weeks earlier. Unbeknownst to Judge Charles Rankin, our boss, the recent law graduate actually carried a small handgun with him into the courtroom on occasion (this was long before metal detectors became routine in public buildings).
I enjoyed the work most of the time but found it frustrating because Douglas County lacked the resources in people, facilities, and budget to deal with the increasingly serious problems of juvenile runaways from all over the country and with our own local offenders and kids being abused. The runaways were attracted to Lawrence, of course, because of its growing reputation as a kind of Berkeley or Haight Ashbury of the Midwest, and indeed some of the local and not-so-local residents helped foster this image through rampant drug abuse, disregard of civil authority (including me and my brother, who was a dispatcher in the Douglas County Sheriff's office at the time), and even bombings of the homes of local judges (Judge Rankin and District Court Judge Gray were both targets of such attacks) and the county attorney.
To paraphrase Charles Dickens, it was the best of times and the worst of times, but also, as the Chinese proverb (or curse) has it, the most interesting of times in the summer of 1970 in Douglas County.
I would not trade that period for anything in my life. It was one of the most useful and intense educational experiences I have ever had.
Judy Gilman, Lawrence
I was a freshman at KU that year, living in Hashinger Hall. I remember all the peace marches and people skipping classes to march. I had friends that lived at 1234 Oread at the time.
We returned there from downtown and watched the KU Union burn. It got rather crazy after that. We watched fires in the dumpsters at Jayhawk Towers from our dorm room. People started to get frightened and found other places to stay. About half the people on my dorm floor were there on the night that the power in the dorms went out. Someone had firebombed the power plant that provided power to the dorms. It was frightening, and a group of us left the dorm and went to visit our friends at 1234 Oread. We had to hurry to get there before curfew. It was not a great decision.

One of our friends was in ROTC and critiqued the technique of the National Guard and others that were brought in to maintain peace. People decided to have a party on an empty lot across the street and stay there all night. Buses were still running during curfew and there will still some cars driving on the street. Barricades were built to stop them.
I guess the students didn't feel that the curfew should only be enforced on them. Fires were set in houses close by. Someone nearby fired shots when the fire truck arrived. All residents of 1234 Oread were evacuated at gunpoint including a Russian tenant who didn't speak any English. They put us in the middle of the street and one of the KC TV stations identified us as a "den of snipers". There wasn't anyone there who had a gun.

When we asked the TV station to send a reporter to interview us, they indicated that with martial law it was unsafe for them to send someone. They did remove the reference to the sniper den on the 10:00 news. The semester ended abruptly when they announced that no one had to return to classes or take finals.
I was friends with Nick Rice and read about his death in the International newspaper when I was in Europe that summer. He was young and curious to see what was happening, but would not have hurt anyone.
What a loss.
Roger Ford, Lawrence
Vietnam, Olongopo, PI, Austrailia, Scotland, Japan, China, Brazil, England and Spain. 1970 was a very busy year for me!
I certainly learned about different cultures. For the most part people are the same everywhere. What you have to watch out for in all countries is politicians!
CJ Brune, Lawrence
1970 was indeed one of Lawrence's most tragic years.
I was a student/employee at KU that year, with 2 small children. I remember the night the Union burned and my future husband was part of the brigade that passed furniture and other valuables out of the building. He worked at the KU Bookstore at the time.
The night that Rick Dowdell was killed in an alley in east Lawrence was terrifying. Racial relations in River City had been steadily deteriorating for several years, and in 1970 they hit a nadir. East Lawrence became an armed camp and I felt like it was not safe to visit friends of mine who lived in the neighborhood.
I happened to be on Oread Ave. the night Nick Rice was killed by police fire. The tear gas was so thick that I left shortly before the fatal shot was fired.
Julie Rea, Lawrence
I was a child at the time but the surroundings in Lawrence seemed surreal to me even at that age. Always before that time, we were able to play hide and seek and ride our bikes out of doors even at dusk, but when the shooting happened, everything changed. We were all scared and many in the community were angry.
To protect people, a curfew was enacted and we all had to abide by it. We had to be inside before dark and since that was prior to cable television, satellite radio and computers--it felt like punishment for me as well. My mother took me to the funeral procession for the boy that had been shot. It took place downtown.

I believe I remember the casket being carried with a horse-drawn cart. All of downtown was packed with people and it seemed like something you would have seen on television. It was a very historical time for everyone--even in Lawrence.
Brendan Lynch, Lawrence
I didn't live through the events of 1970, but I grew up hearing a story from that time that colors my life in Lawrence.
My uncle, Allen Miller, was a KU student and hippie here then. Allen was standing next to Nick Rice the night he was shot to death by Lawrence police on Oread Avenue, in front of the old Gaslight tavern.
Today, a university parking garage marks the spot, just near that big new hotel.
Allen was a long-haired hell raiser. To hear him tell the story, Nick Rice was just an innocent kid who was on his way to the library, only passing through the fiery confrontation between the radicals who inhabited "Hippie Haven" and the cops.
According to my uncle, he was giving a one-fingered salute to the cops when shots rang out, hitting Rice beside him. Allen always said the cops were probably aiming at him and not Rice. Allen and another student protester dragged Rice into the Gaslight and tried to resuscitate him under tear-gas attack from the police. But Rice bled to death right on the spot.
Later, my uncle identified the officer who had shot Rice dead -- he said he had seen him quite clearly -- but no action was ever taken.
If there were such a thing as a Medal of Hippie Honor, my uncle probably would have earned it that night.
Nick Rice went to the same high school as me, Shawnee Mission East.
Today, every day, I park in the garage near where the old Gaslight once stood.
Although I wasn't even born the night Rice was killed, I still have a powerful sense of connection to those events. I also have copies of photos taken of all of the Lawrence freaks every year on the grassy slope in front of the ECM, close to the spot where Rice died. In one, my Uncle Allen, his brother Douglas and my Aunt Pat all pose for the camera in young, rebellious glory.
My Uncle Allen passed away from cancer back in the early 2000s.
Today, our nation is waging more war overseas for murky reasons, but there is little of the street passion that ignited the events of 1970 in Lawrence.
But my Aunt Pat, the only member of my family from that generation still alive here in Lawrence, still goes out on Saturday mornings to protest the wars.
Jackie Kenny, Neosho
I remember not having to take finals because the administration wanted people out of Lawrence as quickly as possible.

I lived in Ellsworth and I remember how odd it was looking out at Iowa street seeing no cars because of the curfew enacted due to the snipers.
I also remember that two of the people suspected of being involved in the racial shooting on campus lived in Ellsworth because one of my friends lived in a room in-between the two.
Carl Fleming, Eudora
Graduated from KU Law School in August, 1969. Took a County Attorneys position in Western Kansas. I attended a law enforcement meeting in the Spring of 1970 where the FBI and KBI gave briefings about the situation in Lawrence. The briefings indicated that Lawrence was becoming a focal point for some very serious people who were mixed in with the usual anti-war campus people and that it was going to be a very hot summer in Lawrence.
The briefings were correct. Later, I recall, at one point a crowd gathered in front of Green Hall and my old Con law prof mentioned that the group should go to the Douglas County Jail where some one was being held regarding a demonstration on the campus.
According to the story the prof was speaking rather abstractly about demonstrating at the jail wherein much to his surprise the crowd headed to the jail with the intent to break the prisoner out.
I think I was at some sort of a Bar meeting when I heard that the Union had burned. I remember talking about it with some of the other lawyers at the meeting. The feelings at that time about the war were some intense that I recall some of the attorneys blaming the arson on Chalmers and LBJ wherein I as a prosecutor that martial law should be declared and all the demonstrators locked up with the key thrown away.
It was a very intense and serious time.