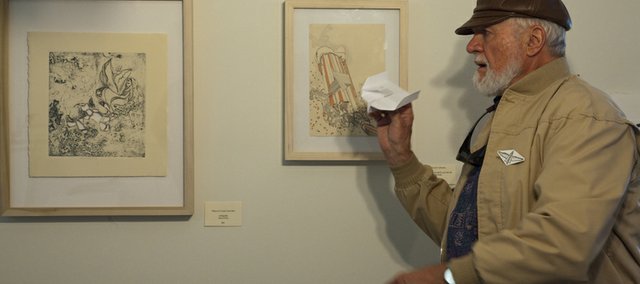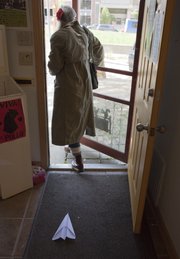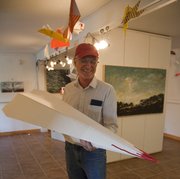 Past Event
Friday, April 30, 2010, 6 p.m. to 9 p.m.
Lawrence Percolator, In the alley behind the Lawrence Arts Center, Lawrence
All ages / Free
Paper airplanes, balloon-launched Twinkies and kazoos are all elevated to high art for the latest interactive art exhibit at the Percolator art space, "Out of Thin Air." While there are still traditional paintings and sculptures hanging in the gallery throughout April and into May, the theme of wind has inspired a whole slew of open-air activities.
"'Out of Thin Air' is a Percolator affair composed of a gallery exhibition, hands-on workshops and a few special events where all the stuff made, displayed and played has air and/or wind as an integral component," says artist Dave Loewenstein, one of the Percolator's collective of organizers.
The show fits in with some of the Percolator's other nature-inspired exhibits, which in the past have dealt with such broad topics as trees and clouds. "There are drawings and paintings of sky and birds," says Eric Farnsworth, another Percolator artist, of the windy collection. "TJ Tangpuz built a device of paper and cardboard that uses bellows to blow a photo of his hand holding a fan. Matt Kirby attached his oboe to an air compressor. There are a lot of paper airplanes hanging from the ceiling."
Those paper airplanes were made by artists and non-artists alike to compete in the Percolator's first annual Paper Glider Fly-In, which was April 17 at the Lawrence Arts Center. The gliders were constructed both at a recent workshop and by amateur aviators around the globe.
"We had an international call out for paper airplanes, which was pretty cool," says K.T. Walsh, artist and Percolator pro. "People mailed them in already made. I think London was the furthest away. We got ones from New Jersey, New Orleans, California — a whole bunch of them came in on the very last day. Some came through the mailbox, and then a whole lot of them, people just came in and folded during our workshops."
The paper planes are indicative of the come-one-come-all, hands on approach of "Out of Thin Air," encouraging the community to come out and create the art themselves. They were the perfect vehicle for democratizing the art gallery experience, since pretty much any and everyone can make one.
"Paper gliders can, with relatively little effort, turn rejection letters, insurance solicitations, eviction notices, failing report cards, unsent love letters and bad poetry into elegant diversions for all ages," says Loewenstein.
Not that all gliders are created equal. It can be, depending on how obsessive you are, an arcane and intricate process. "Making a really good glider is a mysterious business," Farnsworth says. "Making a fairly good one, anyone can do. But judging from the Fly-In entries, aesthetics, performance, and spectacular failure were all goals. Interestingly, the paper airplane that flew the furthest was made of a magazine page that featured photos of pioneering aviators in flight."
On top of the festivities surrounding the Fly-In, the Percolator also hosted a kite workshop and a helium balloon launch to lift odd items such as snack cakes into the heavens. But don't think you've missed all of the aeronautic entertainment.
"Out of Thin Air" will culminate Friday with an open-to-the-public, Mardi Gras-style wind instrument parade up and down Massachusetts Street — complete with kazoos for the kids and the tone-deaf — followed by what's being called the Inflatable Sculpture Bike Ride.
"I'm going to be making these garments out of trash bags called 'Aeolian garments,' and 'Aeolian' just means having to do with wind," explains Walsh.
"This woman in Portugal started them a number of years ago — it looks like a giant windbreaker you pull over your head, but then it has these attachments where, if you get going on your bike, they inflate. You can make people look like monsters or strange, big puffy things biking down the street. We're going to organize a ride at night where people can hang flashlights down their backs so everyone will be lit up. We'll kind of look like fireflies riding around the city. It should be fun."