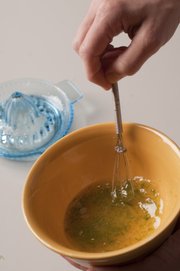 What to do when it's so hot outside, you feel like you'll melt just staring at your oven? Don't cook. Don't go out. Just keep it cold.
No-cook suppers are quick, easy and tasty — plus they use summer's yummy bounty in the simplest of ways.
Nancy O'Connor, nutrition educator and outreach coordinator at the Community Mercantile, 901 S. Iowa, suggests keeping it cool with salad, sandwiches and wraps. She says families can benefit from creating those things "bar" style.
"Instead of cooking, just spend some time chopping and coming up with lots different ingredients. It's also a great way to clean out your refrigerator, like if you have that little half a cup of slivered almonds, you put that on the table and that's fair game as an ingredient," O'Connor says. "And it's also a fun way to introduce kids to new foods."
She also suggests planning a meal around already cooked canned beans in your cupboard. Take the beans, rinse them and mix them with chopped veggies for a quick and easy no-cook dinner.
Another way to keep things cool is to cook portions of your meal ahead, making it no-cook on those hot weekday nights, says private chef Paige Vandegrift. She shared a melon and chicken salad, in which the chicken and the lightly cooked vinaigrette can be made ahead at a cooler time before thrown together with the other ingredients when dinnertime arrives.
"It's got roast chicken in it, but you could do a day ahead or the morning before," she says. "And it's shredded roast chicken with cantaloupe and cucumber and all these really nice, cool ingredients."
O'Connor and Vandegrift also suggest taking hints from naturally warm climates. Vandegrift recommends trying Spanish-style tapas, while O'Connor proposes Mediterranean goodies, like humus.
"I'm really a big fan of all the Mediterranean foods that we have from local vendors," says O'Connor before listing off humus, baba ganoush, yogurt sauces and other spreads and dips. "Just put some crunchy stuff in there and grab some pita, and I just think that's great meal, too."
Chicken Salad with Cantaloupe, Feta & Arugula
2 tablespoons lemon juice
1/2 cup mint chiffonade, plus 1 tablespoon (heaping) chopped mint
1 tablespoon red wine vinegar
1-1/2 tablespoon minced shallot (about half a small shallot)
1/2 teaspoon honey
Salt & pepper
1/3 cup olive oil
1/2 of a large (2-1/2- to 3-pound) ripe cantaloupe, peeled and seeded
1 small cucumber (about 6 ounces), peeled if the skin is tough, halved & seeded
12 to 16 ounces chilled, shredded roast chicken (about 2-1/2 to 3 cups)
4 ounces rinsed and stemmed arugula (4 handfuls)
1/2 cup pecans (2 ounces), toasted and broken into medium-sized pieces
4 ounces feta, crumbled (or substitute ricotta salata, thinly sliced)
To make the vinaigrette: Place the lemon juice in a small saucepan with the tablespoon of minced mint and bring to a simmer. Simmer until the mint wilts — this will only take a few seconds. Remove from the heat and let steep for 30 minutes. Strain the lemon juice into a small bowl and add the red wine vinegar, shallot and honey. Season to taste with salt and pepper. Let the shallot macerate for a few moments before adding the olive oil. Whisk in the olive oil. Taste and correct the seasoning. Set aside.
Cut the cantaloupe half in quarters lengthwise. Then slice thinly crosswise (you should have a generous 2 cups of sliced cantaloupe); set aside. Thinly slice the cucumber halves on a long diagonal (you should have about a cup of cucumber "ribbons" ).
Place the chicken in a large bowl. Season with salt and pepper and drizzle with some of the vinaigrette. Toss to coat. Add the arugula and the chiffonade mint to the bowl along with the cantaloupe, cucumber, pecans and feta.
Season with salt and pepper and drizzle with just enough vinaigrette to coat. Carefully toss the salad. Divide among four dinner plates and serve. Serves 4.
— Recipe by Paige Vandegrift and featured on acookinglifeblog.blogspot.com.
Mango and Avocado Salad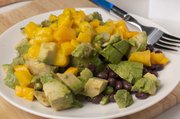 2 ripe but firm avocados, halved, peeled and cubed
3 tablespoons lime juice, divided
2 ripe but firm mangoes, peeled and cubed
1 jalapeño, stemmed, seeded and finely chopped
Sea salt and freshly ground black pepper
1 teaspoon grated lime zest
1/4 teaspoon sugar
2 tablespoons chopped cilantro, plus more for garnish
3 tablespoons olive oil
1 (15-ounce) can no-salt-added black beans, rinsed and drained
Gently toss avocado with 1 tablespoon of the lime juice in a medium bowl. Add mango, jalapeño and salt and gently toss to combine. Set aside.
Whisk together remaining 2 tablespoons lime juice, zest, sugar and cilantro in a large bowl. Whisk in oil until thoroughly combined to make a thick vinaigrette then season with salt and pepper. Add black beans and avocado mixture and toss gently.
Add black beans and avocado mixture and toss gently. Spoon salad onto plates, garnish with cilantro and serve immediately.
— Recipe from www.wholefoodsmarket.com.
Watermelon Salad with Tomatoes, Goat Cheese, Basil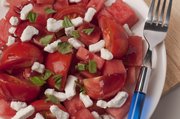 2 to 3 cups watermelon in bite-sized chunks, seeds removed
2 small ripe tomatoes, quartered
2 to 3 ounces fresh goat cheese, crumbled
2 tablespoons prepared balsamic vinaigrette dressing
2 to 3 tablespoons chopped fresh basil
On a large platter or individual plates, arrange watermelon, tomatoes and goat cheese. Drizzle with vinaigrette and top with basil.
— Recipe from www.wholefoodsmarket.com.
Curried Chickpea Salad
2 teaspoons apple cider vinegar
2 tablespoons lime juice
1/4 cup olive oil
2 teaspoons curry powder
2 teaspoons maple syrup
1/2 teaspoon salt
1/2 cup seedless raisins
2 teaspoons cumin seeds, toasted
2 (15-ounce) cans cooked chickpeas, rinsed and drained
1 red bell pepper, cored, seeded and chopped
2/3 cup finely chopped red onion
1/2 cup cilantro or parsley, chopped
8 cups mixed greens
4 cups pita chips (optional)
In a large bowl, whisk together vinegar, lime juice, olive oil, curry powder, maple syrup and salt. Add raisins, cumin, chickpeas, bell pepper, onion and cilantro and toss to combine. Spoon chickpea salad over salad greens and serve with pita chips on the side, if you like.
— Recipe from www.wholefoodsmarket.com.