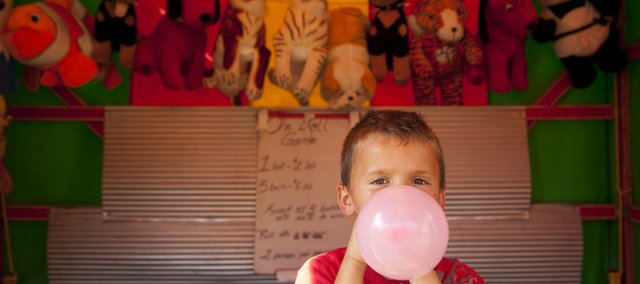 His life is a carnival; it pretty much always has been.
And when you ask the work crew to see the man in charge of all the rides at the Douglas County Fair, they direct you to Ricky Moore, the man in the Hawaiian shirt.
Every year, Moore and his crew of about 70 carnival workers roll into Lawrence. They're always coming from a fair, and heading to another one, after a five-day stint in Douglas County.
When Moore, 53, says he operates a "family business," he's backed by a mountain of evidence. The carnival life stretches across six generations of the Moore family. His grandfather started the business — Moore's Greater Show — in 1930, handed it down to his son, who in turn handed it Moore.
It's a cycle that was all but guaranteed to continue after Moore met his wife, Janie.
"I made her a carnival woman," he said. The couple then proceeded to create yet another Moore carnival family, which today includes two sons, a daughter, grandchildren and cousins.
All told, "there's about 20 Moores out there," Ricky said. At nearly any time, and at any spot at the Douglas County Fair, a Moore family member is in sight, operating a game booth, making funnel cakes, fixing a ride or taking tickets.
Moore's passion for carnivals comes from more than 40 years of traveling the country, having started driving trucks for the family business when he was 13.
Moore, who calls Lyford, Texas, his home in the off season, spends his nights walking around the fair, checking on ticket sales, fixing equipment and generally making sure everything runs smoothly. Despite all the years, Moore said he still loves the carnival.
"The excitement of it. The people's smiles and the faces," said Moore of why he's stuck with it all these years. It's not all fun and games, though, and for anyone planning on starting in on a carnival life, be ready to work, he said. A carnival worker who joins his crew can expect to work 35 carnivals in the eight-month carnival season.
"It's a hard life," he said. "But not as hard as people think."
Brad Downen, from Carlsbad, N.M.
In his early years growing up in Carlsbad, N.M, Brad Downen didn't get to see much of the world. He'd been to Albuquerque once, but that was about it. So at 16, when the carnival came through his little town, Downen and his best friend jumped aboard. His first night working the carnival games he made $1,000.
He was hooked.
Seven years later, the carnival has taken him to every state in the U.S. except Alaska and Hawaii.
He's worked every ride, cooked every variety of fair food, and operated every fair game known to man. Downen says you could drop him into any carnival in the world and, in an instant, he'd be at home.
"I love it," he said.
He's proud to admit the carnival is his life, and the best part is the kinship with his fellow workers.
"Out here, you get family," he said, pointing to the man a few booths down, whom he calls his "adopted father."
Along the way, he's also picked up a wife at – where else – a fair in Casper, Wyo. She's not as crazy about the traveling, but in his four months off per year, she's waiting for him as he unwinds from the carnival season.
As much as he loves the carnival life, it has its downside. Downen talks about the rough days setting up the rides and games in the hot sun; about sitting in the shade with a hose for an hour trying to cool off; about sleeping in tents, on the ground and even on rides.
All in all, though, he wouldn't trade it for whatever life would have held for him in Carlsbad. The carnival lifestyle fits him just fine.
"I'm naturally meant for this job," he said.
Robert Bryan, from everywhere and nowhere
Ask Robert Bryan where's he from, and he'll tell you everywhere and nowhere. His three decades in the carnival life began at age 9, when the carnival rolled through his hometown in California. He talked his way into working a night at the fair in exchange for food for his struggling family. When he was old enough to work full time at carnivals, he signed on.
A few years back, all the carnival traveling and the life got to him, and he quit for three years. He worked a job at Walmart, but headed back to the life he knew.
"I've got to do what I do," he said.
And what he's doing on this day is operating the "Hot Air Balloon" dart game. Bryan owns several of the games and rents the space from Moore. He works on commission, and through the years, he's learned that humor and a smile is the best way to entice fairgoers to the games.
He spots a young couple and tempts the boy with an offer of winning the girl a prize. When the boy declines, Bryan razzes him, asking him what the girlfriend did to deserve such a lousy boyfriend. When a little girl can't decide which stuffed animal she wants as a prize, Bryan offers a raccoon.
"Fresh roadkill, we just got 'em today," he said.
They're lines and jokes he's delivered, with a smile, thousands of times. And unlike the younger Downen, Bryan admits the carnival lifestyle and the traveling has worn out its welcome for him.
"It's been old for years," he said. "I'm lucky I'm still alive."
He's been married five times, but as much as a traveling carnival man can, he's settled down. His wife, Lynette, whom he met at a carnival as well, works the booth next to him. In 15 years of marriage, he said they've managed to find a happy matrimonial arrangement despite the tough carnival life. The two travel the carnival circuit, and wherever it stops at the end of the season, they stop, finding temporary jobs until the show starts again.
The couple has one rule.
"She stays true to me and I stay true to her," he said.
And even with the toll it's taken on him, he plans on staying true to the carnival.
After a long pause, Bryan admits that, yes, he'll work carnivals for the rest of his life.
"It's all I've ever known," he said.