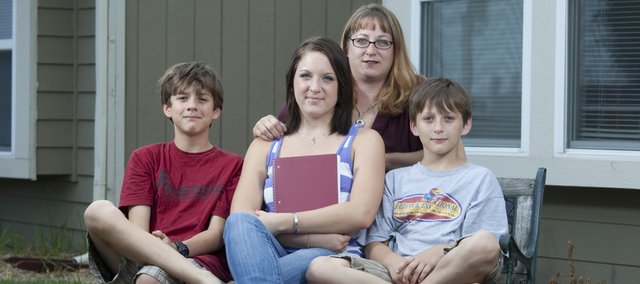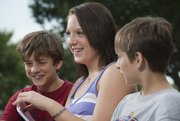 Kimberlee Bourdon is bracing for the anxiety. Her 16-year old daughter, Ashlee, is moving to Lawrence from her father's home in Texas. Ashlee will be a junior at Lawrence High School, and she doesn't know anyone in Lawrence.
"She's more nervous than the boys are," says Bourdon, who also has sons ages 11 and 13. "The boys are really excited."
It's a scene many Lawrence families will face this week: The fluctuation between nerves and excitement as public schools open for classes.
Bourdon is meeting the challenge head-on. She got her boys excited about shopping for school supplies, and she'll have them meet their teachers before the first day. And she was proactive in helping her daughter meet some LHS volleyball players before practices officially began, so she'll have a few familiar faces.
"I think it's the most wonderful time of the year," Bourdon says.
With a few simple steps, local education experts say, parents can help tip the scale toward excitement and away from anxiety as the school year begins.
1. Nerves are natural.
There's nothing wrong with being nervous about the first few days of school.
"I always ask the students, 'Are you excited or scared?'" says Kathy Rathbun, a first-grade teacher at Langston Hughes School. "And I tell them I am, too. And I am. I tell the kids I have butterflies in my stomach."
2. Know the predictors.
Yo Jackson, associate professor of clinical child psychology at Kansas University, says the start of the school year might depend, in part, on the end of last year's schooling.
"It has a lot to do with how they left it," she says. "If it was negative and they were in trouble, it would compound anything negative this year. It's also how their summers went. If it wasn't good, they might be looking forward to the concrete schedule. It can be nice and refreshing if it's been chaotic and hectic during the summer."
3. Eliminate the unknown.
Children are fearful of what they don't know, Rathbun says. If they know where their classroom is, something about their teacher and who will be in their class, they'll feel more confident on the first day.
>4. Use the resources.
If there's an open house or parent orientation session, take advantage of the opportunity, suggests Patricia a kindergarten teacher at Sunset Hill School.
"You can learn the layout of the classroom, and about the curriculum and discipline," she says. "There are so many things they can talk about."
5. Find something positive to talk about.
If your child is negative about going to school, try to introduce positive aspects.
"It may be something unexpected like, 'Hey, your classroom has a turtle in it,'" Jackson says. "Talk about ways they can excel, like, 'You'll be so proud of all the books you have had read, and all the things you'll be able to do that you can't do now.' Even the smallest detail I wouldn't overlook."
6. Set a morning routine and stick to it.
Little drama in the wee hours will make for a smoother transition to the start of the school day, Jackson says.
7. Don't give in.
If a child complains and doesn't want to go to school, it might be tempting to say, "OK, you can stay home today."
"I guarantee you tomorrow will be harder than today," Jackson says.
She says it's important for children to learn that attending school is a responsibility, just like holding down a job will be down the road.
8. Encourage discussion.
"Ask them how their day was," Breithaupt says. "Some kids will just say, 'It was OK,' or 'It was fine.' You might say to them, 'Now I'm going to ask you three questions about your day to encourage conversation."
Jackson adds: "It starts with letting your child know you're very interested in how they are feeling, to get them comfortable in expressing their feelings."
9. Hold a celebratory "welcome school" event.
Do something fun the next couple of days to celebrate the start of school, suggests.
"Maybe go to a movie or the park, or have a special supper or a special breakfast," she says. "Sometimes things like that, special activities, get you ready for school to start."
10. Plan something special for the first day.
Likewise, Rathbun recommends planning something fun for the evening of the first day of school.
"Maybe just have ice cream and talk about the good things and the things they're worried about," she says.
11. Don't linger.
It's great to walk your student to his or her classroom, Breithaupt says. But don't make the transition more difficult than it needs to be.
"After a few moments, (students) are usually fine," she says. "Sometimes it's better if parents don't linger on the first day of school. Walk them in, stay a few moments and leave. Most kids acclimate fairly quickly."
12. Stomach aches.
Breithaupt says a little investigation can usually determine if a child is sick or just has a stomach ache caused by nerves.
"If you don't know the kid, you say to the child, 'Let's wait a couple of moments and see how you feel then,'" she says. "If they're still a little hesitant, I sometimes have them go to the nurse. She'll talk to them and feel them out, ask if they're feeling a little anxious. Sometimes they just need a drink or some crackers. Sometimes they just need to know we care.
13. Know the warning signs.
If, after a few days at school, your son or daughter is crying, is quieter than usual or acting out in other ways, it might be a sign that he or she is anxious beyond what is normal, Jackson says.
14. Talk to the teacher.
If things aren't going well at home, talk to the teacher. Sometimes, Rathbun says, a small adjustment can be made in the classroom to ease fears.
"We can't make the situation better if we don't know about it," she says. "Maybe it's better the first week if the child needs to sit by a friend, or away from a particular group of students. Maybe I can just give them a special hug and say, 'We can get through this day.'"
15. Be positive.
Children will often take cues from their parents to determine their emotions.
"When parents did not enjoy school, it's tougher," Rathbun says. "Kids are keen on what we're feeling, rather than what we're saying. If you maintain a positive attitude, it's vital for everybody to get through the school year."