Saturday, August 14, 2010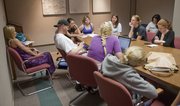 With 150 or more members, the University Daily Kansan is one of the largest student organizations on the Kansas University campus. From online multimedia to television broadcast, the Kansan is more than just a newspaper.
Just in the few years Brianne Pfannenstiel has been a part of the Kansan, she has seen it advance from newsprint to online, and now to television. In fact, the newsroom of the Kansan underwent a transformation this summer that involved merging two newsrooms into one.
Both KUJH television and the Kansan will operate under the same roof next semester. Pfannenstiel, summer editor for the Kansan, said the staff is adjusting to the big move and thought the conversion would create a new atmosphere for next semester's staff.
Her term expires this summer.
Leadership of the Kansan will pass to Alex Garrison. Garrison said merging to one newsroom will bring a lot of work, but that she will enjoy the challenges.
"We are adapting to the changes in the industry," Garrison said. "It's helping students get ready for the real world."
Another way to prepare students for the future is to get involved early. With a 150-member staff, ranging from sports writers and news reporters to design editors and photographers, there are plenty of opportunities.
Even for freshmen and sophomores and students not affiliated with the journalism school, the opportunities are out there.
"You may have to be more self-directed as a freshmen, but it pays off to get involved early," Garrison said.
Starting out as a freshman correspondent allowed Garrison to explore the different areas of interest the Kansan has to offer, such as magazine writing, editing, design and reporting.
"It's a real hands-on experience — something you can't learn in a classroom," Garrison said. "You have to learn it by doing it."
Pfannenstiel said it is never too late to get involved. She didn't join the Kansan until her junior year, and eventually worked her way to editor. She said the Kansan may seem intimidating, but that one of the best things about it is that it is completely student run. Thanks to her experience on the Kansan, Pfannenstiel said she feels prepared to pursue her career goals.
"I now have the skills and the confidence to go into the workforce," Pfannenstiel said.
Garrison said she encourages students to be pro-active, make an investment in their campus and start early. With new changes and continual progress, students have plenty to look forward to with next semester's Kansan.