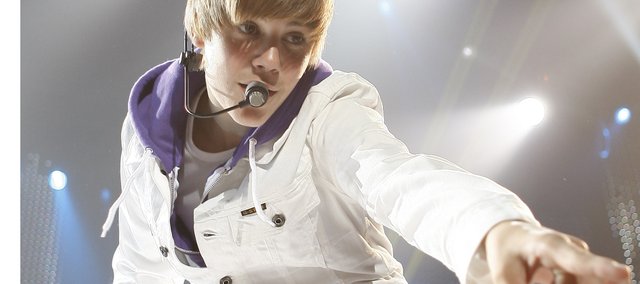 I like Justin Bieber.
He's got a decent voice, and he writes much of his own material. He's even a surprisingly adept drummer.
Would I buy his record? No. But I wouldn't blame anyone else for buying it.
The 16-year-old is currently nestled as the world's biggest pop star. And, honestly, the world could do a lot worse. (Remember Ashlee Simpson and/or Jessica Simpson?)
But I recently learned to appreciate the young Canadian even more this week thanks to an obscure post by Shamantis.
This 20-year-old from Tampa, Fla. (real name: Nick Pittsinger) took Bieber's peppy pop track "U Smile" and slowed it down by 800 percent. The result is astonishing.
The song becomes a mesmerizing, darkly beautiful, ambient epic.
Bieber's voice sounds like it's being recorded in a cathedral the size of the Grand Canyon. The song's drums come across like tidal waves crashing against the shore. Melodies seem to stretch into infinity. Rhythms almost completely evaporate.
What once was a 4-minute ode to unconditional love is now a 35-minute Sigur Ros-meets-Tangerine Dream soundtrack to a David Lynch film.
In merely three days the "U Smile" transmutation has reaped well over 1 million plays.
Shamantis accomplished this feat by employing Paul's Extreme Sound Stretch. It's a program that allows one to elongate a piece of audio from 1 to 10,000 times its length. Paul's materials claim, "It can transform any sound/music to a texture."
This isn't the first time this type of technique has been applied to music. Houston DJs in the 1990s fiddled around with doing the same to hip-hop club tracks. The result was a subgenre they dubbed "chopped and screwed," which focused on taking the rat-a-tat lyrics found in rap and lengthened them until they were akin to vintage storytelling.
While this latest example was used on something as harmless as a Bieber ditty, think of the possibilities of stretching music with more artistic heft to begin with. What would a magnified version of Pink Floyd's "Dark Side of the Moon" album sound like? It could conceivably take more than a week to finish playing. What about the hypnotic, often repetitive instrumental work of composer Philip Glass or the minimalist eccentricities of John Cage? Would it make these pieces more interesting or simply excruciating?
Imagine what sonic secrets could be unlocked by slowing down The Ramones to three beats a minute.
Perhaps true art can be made from anything once it's placed in a different perspective. Andy Warhol built his reputation on that concept. Apparently, so can Justin Bieber.
— Entertainment editor Jon Niccum explores facets of pop culture that have established a unique niche on the Internet in Net Worth. He can be reached at 832-7178.