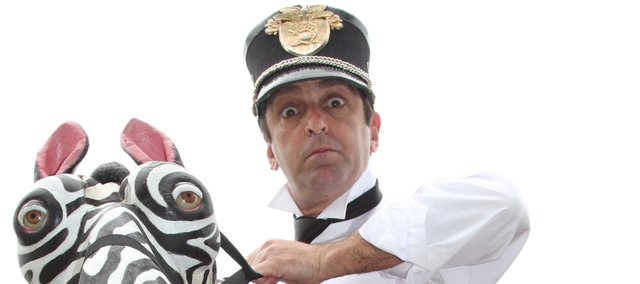 The term "busker" is a British phrase stemming from the 1850s that refers to entertainers who make a living primarily from street performances. (It's believed to have come from the Spanish word "buscar," which means "to look for.")
While Lawrence is no stranger to this form of street theater year-round, the amount of professional talent increases dramatically when the Lawrence Busker Festival returns this weekend. Organizers expect 30 national acts to appear at the third annual event, which showcases artists such as fire jugglers, sword swallowers, magicians, musicians, comedians, hula hoop dancers and living statues.
Here are the stories of several of the more colorful performers.
El Gleno Grande
Since 1987, Glenn Singer has traveled the globe bringing his visual comedy act to places such as New Zealand, Ireland and Japan.
While most audiences seem to embrace the universal aspects of the humor, not everyone gets it.
"When customs agents ask me what I do for a living, I tell them that I'm funny," Singer says. "They don't believe me. It really seems to provoke them, and they look at me suspiciously."
Singer's signature bit is built around the character of El Gleno Grande, who presents an equestrian-style act while pulling double-duty as both horse and rider.
"My visual presence is very striking and ridiculous. The more I can act like it's a normal day for me, the more that can set people off," he says.
While Singer spends about half the year performing, often at corporate events, he deems himself a true curbside busker at heart.
"I consider my act born and bred on the street," he says. "In the tradition of the street, it's not so much about the text of the show as it is the interruptions. My training is the show is just an interesting way to spend time with the audience while you're waiting for what's really going to happen."
Although Singer has studied with masters such as Tony Montanaro (a former partner of Marcel Marceau), he cites Johnny Carson as a major influence. Mainly, this is due to the late comedian's ability to find the humor when a joke bombs.
He says, "It takes awhile for (an audience) to figure out how they respond to you or how they don't respond to you — either one works for me. I can either comment on your response or your lack of a response."
The West Virginia-based entertainer says he really got to explore the latter during his numerous performances in Japan. Those gigs, which he describes as being "like performing on another planet," made him completely re-examine how to approach busking.
"In America, a street performer spends a lot of time learning to attract a crowd. In Japan, a street performer spends just as much time pushing a crowd away so that he can make enough space to work," Singer says.
He adds, "I remember once in Japan after my first of six shows in Yokohama, these five important executives had directed this translator to ask me if I could 'please be more funny.' I thought that was a great idea."
Bruiser the dog
It first appears some busker left a giant sheepdog guarding his spot — and his tip basket — while he went on break. But upon further inspection, it's clear that the dog is the show.
Meet Bruiser, a creation of puppeteer Bob Aiken.
Aiken plays the part of the curiously convincing dog, doing tricks and begging for treats. Adults pet him, and kids can't help but hug him.
He even once overheard the comment, "How did they get the dog inside that suit?"
"I don't know what's unusual anymore," Aiken says of the responses Bruiser gets. "Somebody pretending that this shaggy, fabric sculpture can take the place of their dog left behind at home. ... Maybe just getting a lot of people of all ages to play along in this day of slick electronic entertainment is unusual."
How do actual dogs respond to Bruiser?
"In general it seems bigger dogs want no part of it," says the Estes Park, Colo., performer. "Many small dogs are aggressive with lots of barking and carrying on, advancing and retreating, etc. A little, dirty white poodle peed on him one time. ... Puppies will be the ones to play. That's fun, rolling around with a puppy fully engaged."
Aiken is the founder of The Cloud of Dust Theater, which coupled with his cast of puppets/mask characters has been entertaining families since 1971. Bruiser is one of the characters Aiken utilizes for his showcase "Puppet Variations," which he will also present during the Busker Festival.
Bruiser's cumbersome costume has helped Aiken become one of the most successful regulars to appear at Boulder's Pearl Street Mall. (He travels there three times a week to perform.) The thick design of the outfit has allowed him to continue his act during the state's colder months.
Unfortunately, that may prove a curse during the Kansas-in-August slot of this latest festival.
"The most demanding part is doing extended time in the heat of summer. Up to an hour, not much problem. At 90 minutes the legs feel it, and I'd like a drink," he says.
But more time on the street means more treats for Bruiser — i.e., tips.
"That's why I go for it," he says. "Stopping for a break and starting up again would be very hard for me. It's mental as well as physical. There are times when you just don't want to play anymore, and playing is what makes it successful."
Mentoc the Mind Fuggler
Hidden secrets are extracted. Puzzles solved. Minds read. Metals bent.
That's what happens when an audience gets "fuggled."
Who has the power to do that? Only Mentoc the Mind Fuggler, of course.
"Mentoc is a spin-off character from the Paranormal Funhouse, where I perform classic turn-of-the-century techniques in mind reading and spiritualism," says Michael Morales, aka Mentoc.
The Kansas City, Mo., resident is well-known as the founder of Circus Mondo, which he describes as being part of the same underground carnival subculture popularized in the 1990s by the Jim Rose Circus Sideshow and Bindlestiff Family Cirkus. That led to other equally freakish paths explored by the Indonesian martial artist, from fire eating to Mexican Luchedores wrestling.
Eventually, it proved overwhelming, and Morales went into semi-retirement.
"But when I stopped I read my old collection of magic books. I've got a lot from the 1800s that I bought at an auction years ago," he says.
This literature gave rise to Mentoc, who displays Kreskin-like powers of mind over matter.
"I'm following the path that people have written before me, but the amazing thing about this art is that it still works, he says. "Some of the things I'll perform this weekend are straight 1918 or 1919 techniques. These are all forgotten techniques and tricks — the stuff at the time that Houdini was fighting against."
Morales never actually rehearses his show from beginning to end. He just lets things happen while the crowd steers the performance. In fact, he considers himself a quintessential busker. ("I can make it work anywhere. That's the nature of this art," he says.)
However, there are others who like to think of him as something else.
Morales says, "Something that is happening more and more is people in the psychic community believe I'm real, like they believe they're real. Everything I'm doing is real. But some tricks I do — like contact mind reading or metal bending — the 'white lighters' (don't appreciate me enacting them). I'm even getting to the point where I might have a couple psychic stalkers because of this."