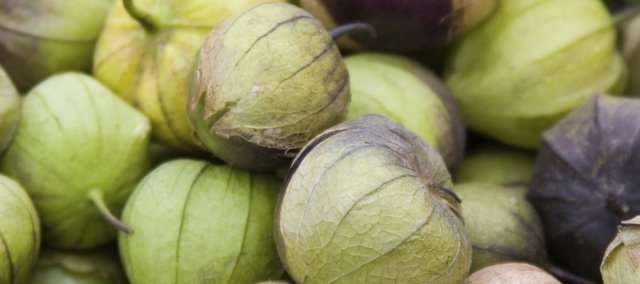 Wednesday, August 25, 2010
Tomatillos
What they are: Tomatillos are small green fruits found encased in papery husk. They have a tart flavor and are most famously used as the base for salsa verde. A native of Mexico, the tomatillo is a member of the nightshade family, along with its similarly named cousin, the tomato. They are so closely related, in fact, that one of the popular nicknames for the tomatillo is the husk tomato.
Season: Tomatillos are available year-round in grocery stores. Locally grown tomatillos can be found in late summer.
Nutrition: A half-cup chopped tomatillo provides 21 calories, 1 gram of fat, 1 gram of fiber and 13 percent of your day vitamin C, according to nutritiondata.com.
How to pick: Pick tomatillos that are shiny, firm and fit snugly into their dry husks, according to Aliza Green's "Field Guide to Produce." Avoid sticky or yellow tomatillos.
How to store: Store tomatillos in their husks, in a paper bag in the refrigerator for up to one month, according to Green.
What do I do with ...?
Got a food the intimidates you? We'd love to hear what foods you'd like to know more about. E-mail Sarah Henning at shenning@ljworld.com.
Tart and sweet, tomatillos hide a world of flavor underneath their thin, papery skin.
"They have a lemon-herb flavor," says Greg Stone, produce manager at Hy-Vee, 3504 Clinton Parkway. "They can be eaten raw, but the flavor is much, much, much better if they're cooked."
The main ingredient in salsa verde, these green little wonders add an authentic taste to Mexican meals. And it's no wonder: The Aztecs first cultivated tomatillos in 800 B.C.
Tomatillos are members of the nightshade family, the same family as tomatoes, potatoes and eggplant. They're also closely related to the ground cherry, a gooseberry-like fruit that is smaller and sweeter than a tomatillos, but enclosed in a similar papery shell.
When ripe, the husks take on a purple color, though you want to make sure the fruit inside is still firm, Stone says.
"Firm, dry, and, the book I have says 'evenly colored,'" Stone says. "You can refrigerate them in a paper bag for up to a month."
Angel Alvarez hasn't ever needed to test that storage method. The chef and owner of Tortas Jalisco, 534 Frontier Road, blows through about 80 pounds per week of the tiny fruits — extremely impressive given their average size.
"It's smaller than a roma tomato," Alvarez says.
He uses them to make two types of salsa verde, one raw and fresh, the other roasted — both exceedingly popular and both specific in their taste.
"We have two different types of salsa verde, we have one, that's the one that we give to every table," Alvarez says of the raw, fresh salsa verde. "And we have the other salsa verde that's the one we'll put it in enchiladas, or like pork and chile verde."
RECIPES
Tomatillo Salsa
2 pounds fresh tomatillos
1 cup onion, chopped
1 or 2 hot peppers, cored, seeded and chopped
1 cup fresh cilantro, minced
1/4 cup fresh lime juice
1-2 cloves garlic
Salt to taste
Remove husks from tomatillos, wash thoroughly, dry and halve or quarter. Combine tomatillos, onions, chiles and garlic in a nonreactive pan. Over medium-high heat bring to boil, stirring frequently. Reduce heat to low and simmer, uncovered, for 20 minutes. Cool a and put into blender with cilantro and lime juice, blend away, salt to taste.
— Recipe from www.mariquita.com.
Mango and Tomatillo Salsa
2 organic mango peeled seeded and diced
1 jalapeño, seeded and finely diced
1/4 cup limes, juice freshly squeezed
1 cup orange juice
10 tomatillos peeled washed and finely diced
1 tomatoes ripe and finely diced
1/4 cup red onion finely diced
1/4 cup cilantro finely chopped
Salt and freshly ground black pepper to taste
Place all ingredients in a large bowl. Combine thoroughly and season with salt and pepper. Allow to sit for 2 hours before use.
— Recipe from www.melissas.com.
Tomatillo Mole with Chicken and Vegetables
4 cups low-sodium chicken broth
1 1/2 bunches cilantro, trimmed
Leaves from 1 bunch parsley
1 dried bay leaf
1 clove garlic, halved
1 large yellow onion, halved
1 1/2 pounds skinless, boneless chicken breasts
1 1/2 pounds skinless, boneless chicken thighs
Salt and pepper to taste
1 3/4 pounds tomatillos, husked and rinsed
2 jalapeños, seeded and quartered
1 bunch green onions, white and green parts thinly sliced separately
1 cup green beans, trimmed and cut into 1/2-inch pieces
1 cup sugar snap peas
1 cup fresh or thawed frozen peas
2 zucchini, thickly sliced
1 cup loosely packed mint
1/2 bunch chives
Put broth, 2 sprigs of the cilantro, 2 tablespoons of the parsley leaves, bay leaf, garlic, 1 onion half and 4 cups water into a large pot and bring to a boil. Season chicken with salt and pepper on both sides and add to pot. When liquid returns to a boil, cover and remove from heat. Let chicken steep until cooked through, 18 to 20 minutes. Transfer chicken to a plate, cover and set aside.
Reheat chicken cooking liquid to a simmer and add tomatillos. Simmer until bright green color becomes opaque, 7 to 10 minutes. Using a slotted spoon, transfer tomatillos to a food processor. (Strain cooking liquid and reserve.) Cut remaining yellow onion half into large pieces and add to food processor along with jalapeños, white parts of green onions and 2 cups of the reserved cooking liquid. Puree until smooth and season with salt and pepper.
Transfer 4 cups of the remaining cooking liquid to a large pot. (Save any remaining cooking liquid for another use, or discard.) Stir in the tomatillo mixture and bring to a simmer over medium high heat. Add green beans, sugar snap peas, peas and zucchini. Simmer 3 to 5 minutes, until vegetables are crisp-tender. Add reserved chicken and simmer gently to reheat.
Just before serving, finish the mole verde by placing the remaining cilantro, remaining parsley, mint and chives into a blender with 1/2 cup of the warm mole liquid. Puree and season with salt and pepper. Remove chicken from heat and stir in puree. Mix well and serve immediately, garnish with remaining green onions.
— Recipe from www.wholefoodsmarket.com.
Guatemalan Chicken Stew With Tomatillo Sauce
1 pound tomatillos, husked and rinsed
4 bone-in, skinless chicken thighs (about 1 1/2 pounds)
2 bone-in, skinless chicken breasts (about 1 1/2 pounds)
1 to 2 jalapeños, stemmed and halved lengthwise
Salt and pepper to taste
1 tablespoon extra virgin olive oil
1/2 cup roughly chopped cilantro, plus more for garnish
6 green onions, trimmed and roughly chopped
3 cloves garlic, roughly chopped
1 green bell pepper, cored, seeded and roughly chopped
1/2 cup pumpkin seeds (pepitas), toasted
1/4 cup sesame seeds, toasted
2 (8-inch) corn tortillas, torn into pieces
Put 6 cups water, tomatillos, chicken, jalapeños and salt into a large pot and bring to a boil. Reduce heat to medium low and simmer until tomatillos and jalapeños are tender and chicken is cooked through, about 25 minutes. Drain, reserving broth, and set aside chicken, tomatillos and jalapeños.
Meanwhile, heat oil in a large skillet over medium heat. Add cilantro, green onions, garlic and bell pepper and cook until softened and golden brown, about 10 minutes; transfer to a blender. Add pumpkin seeds, sesame seeds, tortillas, 3 cups of the reserved broth, tomatillos and jalapeños (seeded first, if you like) and carefully purée until smooth; work in batches, if needed. (Reserve remaining broth for another use.)
Transfer contents of blender to a large pot and bring to a boil. Reduce heat to medium low and simmer until thickened, about 10 minutes. Meanwhile, discard bones from chicken and shred meat. Transfer to pot with sauce and simmer for 10 minutes more. Ladle into bowls, garnish with cilantro and serve.
— Recipe from www.wholefoodsmarket.com.
Chicken Stir-Fry with Jicama, Tomatillos and Red Peppers
1 pound boneless skinless chicken breasts, cut into strips
1/4 cup Italian dressing
4 slices bacon, chopped
1 cup sliced jicama (about 1 medium)
1 cup quartered tomatillos
1 cup sliced red bell peppers (about 1 medium)
1/2 teaspoon crushed red pepper
2 cups hot cooked rice
Place chicken in resealable plastic bag. Add dressing; seal bag. Turn bag over several times to evenly coat chicken with dressing. Refrigerate at least 30 minutes or up to 1 hour to marinate.
Cook bacon in large skillet on medium heat until crisp. Drain fat from skillet; set bacon aside. Remove chicken from marinade; discard marinade. Add chicken to same skillet; cook 4 min. or until evenly browned, stirring frequently. Add jicama, tomatillos, red bell peppers and crushed red pepper; mix well. Cook 3 min. or until chicken is cooked through, stirring occasionally.
Serve over the rice.
— Recipe from www.kraftrecipes.com.
Tomatillo and Roasted Pepper Salsa
1 pound tomatillos
3 whole jalapeño, sliced in half and seeded
3 whole red Fresno chiles, sliced in half and seeded
1 whole Maui onions, quartered
1 whole tomatoes, quartered
2 cloves garlic, roasted
1 whole Meyer lemon, juiced
2 whole Key limes, juiced
1/3 cup cilantro (fresh)
Peel the husks off of the tomatillos and rinse under cold water. Boil the tomatillos in salted water until soft and tender. While the tomatillos are cooking, preheat over to 400 degrees. Place the peppers and onions on a sheet pan, drizzle with olive oil, season with salt and pepper and roast in the oven until slightly charred. This will take about 10-15 minutes. When the tomatillos are done, strain them and put them into a blender. Add the peppers, onions, tomato, garlic, lemon, lime and cilantro. Blend to desired consistency. Adjust seasoning and add cayenne if you want to heat it up more.
— Recipe from www.melissas.com.