Thursday, August 26, 2010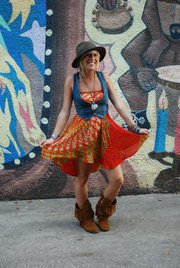 Age: 21.
Sign: Capricorn.
Hometown: Overland Park.
Time in Lawrence: Three years.
Occupation: KU student, intern for Cumulus Media, DJ for KJHK.
What were you doing when scouted? Drinking tea at Teapouro.
How would you describe your style? Colorful and comfortable. I don't like following trends. Instead, I try to create my own style.
What are your current favorite fashion trends? Vintage apparel, lots of accessories, boots and hats.
What are your least favorite fashion trends? Affliction T-shirts and bad tattoos — they give tattoo art a bad name.
What would you like to see more of in Lawrence? More tea parties, more disco dance parties and a replacement for the Cheese Shoppe.
What would you like to see less of in Lawrence? Less of a bar scene and less haters.
Do you have any piercings or tattoos? Yes and yes. I have a Grateful Dead dancing bear on my foot, a Gerber Daisy behind my ear, a chamsa hand on the back of my neck, and a quote on the left side of my rib cage that says, "If music be the food of love, play on."
Who are your fashion influences? I'm drawn to funky fashions that are outside the box — like the diverse styles of Sarah Jessica Parker's character, Carrie Bradshaw, in "Sex in the City."
People say I look like: Lady Gaga — so silly, I know!
Tell us a secret: I secretly want to fist-pump with the cast of "Jersey Shore" — for one night only.