Saturday, August 28, 2010
Photo Gallery
Final Friday starts downtown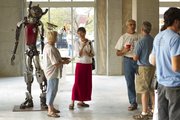 About 30 downtown galleries and businesses participated in the event, which is scheduled for the last Friday each month.
Residents strolling in downtown Lawrence on Friday night finally had something new to look at. The night marked the kick-off to Lawrence's first Final Fridays Gallery Walk, a monthly arts extravaganza set to take place the last Friday of every month.
More than 30 venues took part in the walk, from commercial galleries and restaurants to retail store and empty storefronts. The event also featured several live performances.
Jane Pennington, director of Downtown Lawrence Inc., said the goal was to allow artists to display their work while bringing the arts together in a fun and creative way.
"Many local artists are starved for space," Pennington said. "With the type of talent and general interest of the arts in Lawrence it is a great opportunity for everyone."
Tim Forcade, an artist who combines painting with graphics, said because so many talented artists reside in Lawrence, a lot of support is needed as well.
"We really need the help," Forcade said. "We need events to sell at and allow people to support the arts."
Darin White, curator of the gallery at 837 Mass., said Final Fridays is a great way to get people interested in art who perhaps don't normally take the time to visit typical galleries. Having an event where the arts are combined in unique ways and on display in unconventional venues is a great way to attract new interest he said.
"It's immediate — 'I see it, and I want to look at it,'" White said. "It's just like a store so I think it's very appropriate that store space is being used for art."
Artists are not the only ones excited about the opportunity. Residents are also enjoying the new event.
Colette Bangert, Lawrence, said she was thrilled to see an event like this in town.
"Art is finished when someone else looks at it," Bangert said. "I think this is the most wonderful event that has happened in Lawrence for art and artists and businesses, etc., in decades, maybe ever."
Final Fridays is presented by the Downtown Lawrence Arts District. Expansion plans are already in the works for next month. Interested artists can email info@downtownlawrenceartsdistrict.org or visit them on the Web at downtownlawrenceartsdistrict.org.