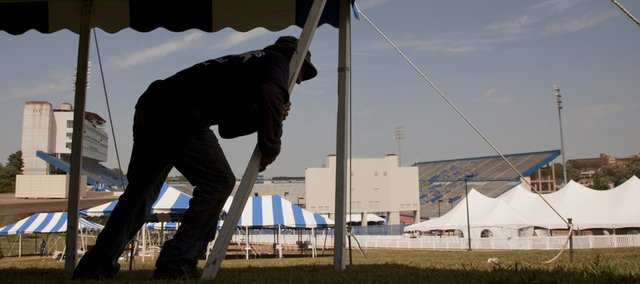 Past Event
Thursday, September 2, 2010, 5 p.m. to 9 p.m.
Downtown Lawrence, Lawrence
Not available / Free
Downtown Lawrence will be filled with a sea of crimson and blue Thursday night as Jayhawk football fans take over Massachusetts Street.
Starting at 5 p.m., Kansas University fans are invited to celebrate Friday's start of football season with a downtown block party and pep rally. The 1000 block of Massachusetts Street will be closed to traffic from 3 p.m. to 9 p.m. to allow for set up and clean up.
A kids zone will open at 5 p.m. followed by head football coach Turner Gill's first Hawk Talk radio show at 6 p.m. outside Buffalo Wild Wings. Following the live broadcast, Gill will address the crowd outside the restaurant.
The KU Pep Band, spirit squad and cheerleaders will be rallying the crowd and leading chants throughout the event. Visitors may also have the chance to hear from players.
There will be no outside vendors with food and drinks, but local establishments will be open. Tom Kern, president of the Lawrence Chamber of Commerce, said they hope to have a city street vendor permit in time for the next pep rally on Oct. 21— two days before the Jayhawks take on Texas A&M; in a Homecoming showdown. The Chamber is working in conjunction with Kansas Athletics and Downtown Lawrence Inc. in an effort to co-promote KU Athletics and downtown events.
The 2010 KU football season kicks off at 6 p.m. Saturday against North Dakota State.