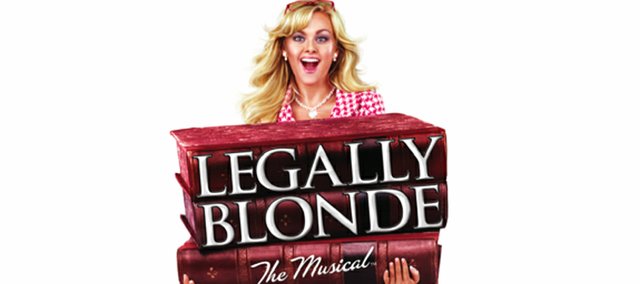 Originally published December 1, 2010 at 2:18 p.m., updated December 1, 2010 at 4:33 p.m.
Past Event
Tuesday, December 7, 2010, 7:30 p.m.
Lied Center, 1600 Stewart Drive, KU campus, Lawrence
All ages / $24 - $48
Need and underdog story to brighten your days during this dreary winter? Look no further than the sunny bit of whimsy that is "Legally Blonde: The Musical," which is in town for a one-night show Dec. 7 at the Lied Center.
The story, for those of you who don't remember from the 2001 box office smash starring Reese Witherspoon, is of Elle Woods, a blonde California sorority sister who heads to Harvard Law School after getting dumped by her already-enrolled boyfriend. Woods sets off to prove to her ex, her professors and herself that with enough determination and pluck, it is possible to break through the boundaries others set for you.
To get you in a "blonde" mood, we talked with actor Kahlil Joseph, who plays Professor Callahan in the production. Those familiar with the story line will recognize Callahan as Elle's law professor/mentor/antagonist.
Joseph is breaking ground in many ways in this tour of the musical, being the youngest and first actor of color to play Professor Callahan and also the first actual professor (he's taught at UCLA) to suit up in the role.
Here, he talks about the trick to playing a convincing villain, why he's stolen a page out of the WWE playbook and about why he'll take either boos or applause as long as they're enthusiastic.
Sarah Henning: You play Professor Callahan, is that right?
Kahlil Joseph: That's right. The villain of the piece.
SH: Yeah, I was going to say, "You're the villain!" How does that feel — to be the villain?
KJ: Oh, it's actually a tremendous amount of fun. I've always enjoyed playing the bad guys. Even though I've been fortunate to play a wide variety of good guys, bad guys, everyday types, but, um, bad guys to me always have a very special place because it's easy to make a bad guy into a caricature. And I think trying to play a bad guy from the point of view that he is right and what he's doing is for justified purposes, that's what makes that person to me, that character more scary or more unredeemable. Someone who could creep the audience out even more, just because he believes to the point of delusion that what he is doing is absolutely right.
Audio clip
Kahlil Joseph on playing the villain
Therefore, playing Professor Callahan, the other thing that appeals to me tremendously about the character is that he's extremely intelligent, he's very articulate, he's this superstar lawyer, criminal attorney who runs a billion dollar law firm as he states in his song. But the man has no morals, whatsoever. And I don't mean just about good versus evil, he's completely amoral. Rather than immoral, I would use the word amoral.
SH: So, now, I've seen the show, I saw it when it came to Starlight in Kansas City. It really worked well as a musical, but I'm guessing most of the people who go see it are used to the movie version. How is the movie version different than the musical?
KJ: To be honest, with you, what I like about it is that (the musical is) extremely close, actually, to the movie. Tons of the storyline is almost verbatim with a few minor differences, which I believe have just been changed for dramatic purpose or to make certain things that work well on film work better on stage with just a few adjustments.
Audio clip
Kahlil Joseph discusses the differences between the play and the movie
In terms of similarities, the great thing about this is there are tons of parts of the movie that have simply been made into song in the musical. Again, things that would work well in film, could work better on stage in the form of a song and some wonderful dances. The story is told through and through in every single song. There's a lot of interaction going on. It's not a traditional musical in the sense where the character has said their piece in spoken form and then the song is just an extension of that particular spoken moment. It's like having a dialogue between the actors and actresses on stage, except in the form of a song.
SH: It's been a few years since the movie came out and we've had a second movie — what do you think it is about this story that is so enduring that it has become a musical that's been really successful?
KJ: I think it's a classic story of a very unusual underdog. Why I say unusual is because in a lot of ways, one would look at Elle Woods, the character, and they would scoff. They would ask, "How she's an underdog? She's super rich, she lives in Malibu, she's very popular as the president of the Delta Nu sorority at UCLA, she goes to a phenomenal school ..."
In Elle's case, of course as I said, she's a woman in the law field and we know about the whole "male dominated everything" and the "glass ceiling" and so on and so forth. On top of which, she's a blonde woman, a blonde woman from a sorority, which has its own stereotypes that go with it. And so she has to fight and overcome in her own sweet, perky way. She has to overcome things just like everybody else.
Her biggest obstacle, I think, is forcing everyone to take her seriously through her actions. And I think that's a huge reason as to why people do find the story very endearing. Her character is very likable, no matter how initially ditzy or annoying you might think she is, she's still got a very good heart.
SH: Now, can we talk a little bit about the music because you were talking about how it's unusual, and it is, it is unusual for a stage musical the way it was set up. How does it change your job as an actor, singing a lot of the storyline and not in a big showy way?
KJ: My role of Callahan is, and it's another reason I signed up for the role, is very, very different than every other character in the show. I do quite a bit more talking as well, like I guess an actor in a regular play. I also, however, I do do quite a bit of singing, which explains who I am.
Audio clip
Kahlil Joseph proud of his role
When it comes down to me performing these songs, I had to make very, very specific choices about how I'm going to approach the role. If I were to be, again, playing him as a caricature or in a melodramatic kind of way, I think it wouldn't really make the audience despise me by the end of the show.
The conclusion I came to was, I'm definitely very cold, like a shark. I'm very calm and sometimes emotionless, like a shark. And yet, at the same time, there are times where I use "the wolf in sheep's clothing" as an analogy. What I felt is that when I smile I'm at my most dangerous, actually.
SH: And you're OK with being booed?
KJ: It's funny you asked that, because in the beginning, I was thinking to myself, "Well, this will be interesting, this will be like pro wrestling, actually, come to think of it." That's the analogy I used, is pro wrestling. And I thought, if I have to be a "heel," which I think is the term they use for a villain in pro wrestling, so be it.
I've always hoped that the audience will boo me very loudly and vocally ... if they don't boo me in the curtain call or clap when I'm told to get off the stage, I would hope that then they would give me a loud round of applause at the curtain call, where this time they've separated the character from the actor and they're applauding the actor for his work. Either or is fine, so long as it's not a neutral applause!