Originally published December 1, 2010 at 3:15 p.m., updated December 1, 2010 at 3:15 p.m.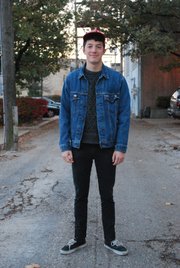 Name: Willie Stein
Age: 23
Sign: Cancer — but I don't believe in that crap
Occupation: Wheatfield's bread man
Hometown: Lawrence
Time in Lawrence: 19 of 23 years
What were you doing when you were scouted? Getting some pizza at Rudy's.
How would you describe your style? I am a pretentious French intellectual who got Freaky Friday-ed into the body of a teenage grind-core fan who sometimes takes on a third identity as a pro-cyclist.
What are your current favorite fashion trends? Horrible mustaches, high-waisted skirts and jeans on women, and bodily-fluid colored tie-dye shirts.
What are your least favorite fashion trends? George Clinton-esque funky hats on un-funky people and really complicated, colorful tattoos.
What would you like to see more of in Lawrence? Well-read Leftists, goofball attitudes, and cyclists who are not middle-aged men.
What would you like to see less of in Lawrence? Fedoras on men under 50, severely underdressed women in January, and fake haute-cuisine downtown that mange to trick people into thinking that spending more money equals better food.
Do you have any fashion influences? Inspector Clouseau, David Vincent from Morbid Angel, and Mario Cipollini.
Do you have any piercings or tattoos? No piercings, several tattoos. My latest is a stick and poke tattoo of Saturn that I got in Berlin.
People say I look like… Matthew Broderick in "Ferris Bueller's Day Off."

Tell us a secret: I'm not really a doctor.
More like this story on Lawrence.com