Originally published December 1, 2010 at 3:39 p.m., updated December 1, 2010 at 3:39 p.m.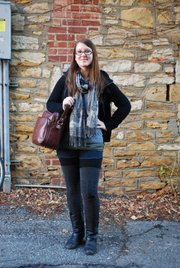 Name: Valerie Skubal
Age: 22
Sign: Aquarius
Occupation: Freelance Photographer, Sylas & Maddy's and Terrebonne employee
Hometown: Shawnee, KS
Time in Lawrence: 4.5 years
What were you doing when you were scouted? Working downtown.
How would you describe your style? I dress according to the weather and wear clothing that is bike-friendly. Overall, my style is laid-back and low-maintenance.
What are your current favorite fashion trends? Thigh-high socks, skinny jeans, boots, silver accessories, and feather jewelry.
What are your least favorite fashion trends? I know it's typical, but Ugg boots, neon colors, and leggings as pants all irritate me.
What would you like to see more of in Lawrence? Useful amenities for the downtown and East-Lawrence community members, like a closer pharmacy, grocery store, and liquor store.
What would you like to see less of in Lawrence? Less cars and less expensive retail stores that only cater towards one group of people.
Do you have any fashion influences? Alicia Kelly, a barista at Henry's Coffee Shop, and actress/musician Zooey Deschanel.
Do you have any piercings or tattoos? I have 8 piercings and 2 tattoos.
People say I look like… Daria.
Tell us a secret: My guilty pleasures include listening to Taylor Swift, Katy Perry, and Miley Cyrus.
More like this story on Lawrence.com