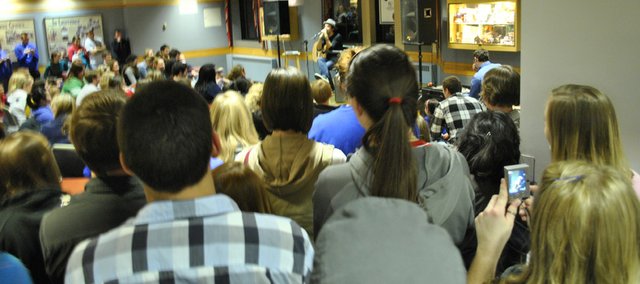 Originally published December 3, 2010 at 7:23 p.m., updated December 3, 2010 at 10:24 p.m.
Photo Gallery
Jason Mraz at the Kansas Union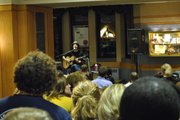 Musician Jason Mraz played a surprise concert in the Kansas Union on Friday, Dec. 3, 2010.
It wasn't about money or media.
It was about the music.
Singer-songwriter Jason Mraz played an impromptu concert for a few hundred fans in the fourth-floor lobby of the Kansas Union on Friday evening.
The free show, which Mraz had called ahead to set up Thursday, was not allowed to be advertised, per the artist's request.
"The only caveat was that we could not tell anybody," said J.J. O'Toole-Curran, director of union programs. "It wasn't hard until he actually got here tonight."
Mraz rolled into Lawrence about 5 p.m. Friday and set up a small stage and speakers. About 20 members of KU's Student Union Activities group were the first to learn of the performer's presence. Sophomore Kris Velasco worked the KU information desk on the fourth floor where Mraz was playing. He had the chance to meet the musician before resigning to his job duties.
"I was stoked," Velasco said. "He's actually like one of my favorite people."
Velasco wasn't alone in his sentiment, with people young and old joining the crowd every few minutes.
Mraz began performing about 6 p.m. for what he described as a small group at first.
"When I got here it was just a few people studying," he said. "I kept my eyes closed for like the first three songs, and when I opened them up there was easily more than a hundred people here."
As the performance carried on, phone calls, tweets and text messages were sent out, bringing a few more fans to the music scene. The union lobby was filled with music and excited chatter. People sang along with every song they knew.
"The turnout was amazing, really good," Mraz said. "It was surprising and it was a relief, too. I was totally prepared to play for five to 10 people. I'm not attached to the outcome, I'm just committed to having a good time and being spontaneous."
Shonda Anderson and her son Journey were spontaneous, too. The Lawrence residents saw the news posted on LJWorld.com and hurried to the Kansas University campus.
"I was like, 'Get dressed kids,'" Anderson said.
For two hours, Mraz played to the crowd, taking time for requests and talking about his personal life. After he finished playing, he hung around to take photos with fans, sign autographs and record personal messages on people's phones and cameras.
For Mraz, it was all part of the unplanned plan.
"I kind of hope I can offer any sense of relatedness, some sense of comfort in my unpreparedness," he said. "I think that's my goal, is to leave people with a feeling of, 'It's all good.'"
More like this story on Lawrence.com