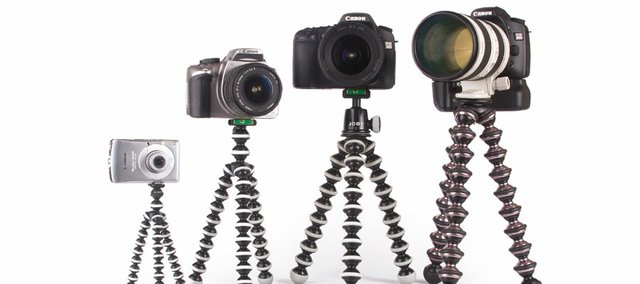 Originally published December 5, 2010 at midnight, updated December 5, 2010 at midnight
I'm not a camera geek, but I do keep up on useful and interesting photo gear. Here's a short list of stocking suffers and new camera info for photo enthusiasts.
Photoshop Elements
Price: around $70
An excellent, entry-level, image-editing program. For real photo hobbyists, a photo-editing software program is highly recommended. These types of programs help organize, edit and color-manage photographs. There are several programs, but Adobe's Photoshop is an industry standard and one of the most widely used. Photoshop Elements is a cheaper and somewhat stripped-down version of PS but still a powerful tool for any photographer.
Joby GorillaPods
Price: From $19.95.
These colorful, bendable, mount-anywhere tripods are pretty cool tools to level any playing field, literally. I make a habit of carrying a portable tripod in my camera bag, and one of these is in my future. They can handle anything from smartphones to full-sized DSLRs, and you can stand or wrap them around anything.
Eye-Fi Wireless SD cards
Price: From around $40
Want to have the Internet uploading capability of your smartphone in your camera? With built-in Wi-Fi, these memory cards enable you to transfer images and video straight from your camera to your computer or your favorite sharing site when you are in range of a specified wireless network. You can select up to 32 networks for your card, and you can send to over 25 popular websites, including Facebook, flickr and YouTube.
Point-and-shoot cameras
Price: $250 to $500
There is a lot of innovation going on in this range of cameras. Here are a few.
l Samsung TL500. Has a maximum aperture of f1.8 on its 24-72mm zoom lens. Excellent for low-light photography.
l Nikon Coolpix S8100. Features a 30-300mm lens and has a pre-shooting cache that records up to two shots BEFORE the shutter-release is fully pressed. Wow! This could be the solution to missed photos due to shutter-lag.
l Fuji FinePix Real 3D W3. Film your own version of "Avatar" with this 3D-capable camera. The camera combines two images from two angles for a 3D representation on your camera's LCD. Download the video or photos to a 3D-capable TV or 3D-ready computer for viewing in 3D with special glasses.
To research cameras go to dpreview.com
Shop prudently. Photograph wisely.
— Chief Photographer Mike Yoder can be reached at 832-7141.
More like this story on Lawrence.com