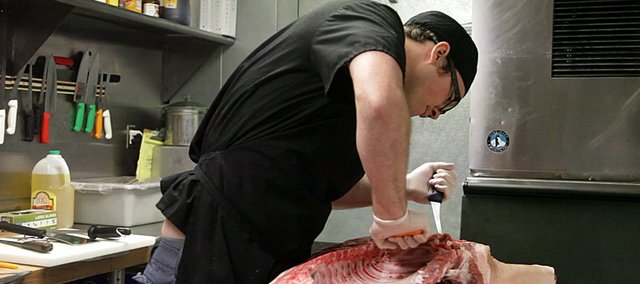 Originally published December 6, 2010 at 3:47 p.m., updated December 7, 2010 at 12:40 a.m.
Butchery Dinner with Chef Michael Beard
Where: 715 Restaurant, 715 Mass.
When: 4 p.m., Sunday, Dec. 12
What: A private dinner featuring a whole hog butchery demonstration, antipasti and a casual five-course meal.
Cost: $75 per person.
For reservations: Call the restaurant at 856-7150
Michael Beard's comfort zone is in the kitchen. The next best thing if you take him away from the stove? Behind a table with a pig, ready to be carved.
That's what guests will get Sunday night when Beard and general manager Matt Hyde host what they're calling a Butchery Dinner at their restaurant 715, 715 Mass.
The private dinner, which still has a limited number of reservations, will include a session in which the Italian-trained Beard will demonstrate how he butchers a whole hog each week for the restaurant's use in the hand-created pork products that pepper many of its entrees. It's a kind of look-and-learn approach that Beard and Hyde hopes will be filling both physically and mentally to their guests.
"During our anniversary week, we did just a demonstration in butchery and we had a great turnout there," Beard says of two-hour show-and-tell he did in October. "We realize that there is interest in this, and we thought we'd just take it a step further and make an event where people could see that as well as see some prepared products."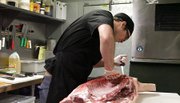 This time, the seminar experience will be combined with food and drink and revelry similar to something that's become popular in the business — the wine dinner. Though, Hyde says, it'll be more of a laid-back learning experience than a stuffy, erudite affair.
"Frequently, you'll have a wine rep or a wine maker come to the restaurant and you'll plan a menu around five or six wines that they pick out. They tend to be somewhat formal or fancy affairs, that I think can be kind of intimidating to people, even people who like food and wine. Sometimes they feel like it's going to be a class environment, and they're going to have to know what they're talking about," Hyde says. "Here, we're just going to try to make it a more comfortable thing."
To maintain that feeling, the restaurant is planning to keep this dinner to just 18 to 20 people, so the setting isn't overwhelming or inhibiting to the diner's experience.
"We're going to keep the number of attendees really limited because we want everybody to be able to see and participate and ask questions and also enjoy talking to one another," Hyde says. "A lot of times, private dinners like this, you tend to end up with 30 or 40 people, and it tends to be a big production."
And a big production, it's not, according to Beard, who pictures it more as a wine and dine with the past.
"My grandfather saw his parents do a lot of the farming and butchering and then he basically kept that and didn't really pass that on to my mother," Beard says. "I think there's a lost generation, and so I think that there might be a little bit of an unknown, but there's a little bit of a familiarity of, 'That's just what my grandfather used to do.'"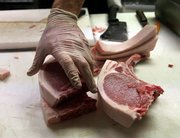 The dinner also highlights another trend in Lawrence dining besides the private meal: The act of getting to know the person who's behind the food. Hyde points to several Lawrence restaurants that have also allowed their chefs become a part of the meal itself, such as Pachamama's (Ken Baker), Genovese (Armando Paniagua) and The Burger Stand at the Casbah and Esquina (Robert Krause).
"I think Ken has worked really hard over at Pachamama's to kind of build that relationship with his clientele, people that really appreciate his abilities and his thoughtfulness with how he cooks. Krause has a similar kind of thing, particularly when he was doing the restaurant in his house (Krause Dining). And Armando has been really successful with that at Genovese," Hyde says. "And it makes perfect sense. Food is such an intimate thing."
More like this story on Lawrence.com