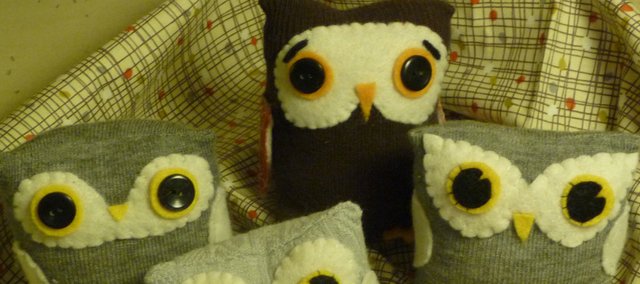 By Sarah Aylward
If you haven't started shopping yet this holiday season, panic may soon set in. Rather than resorting to gift cards, consider purchasing something locally made.
The Ladies of Lawrence Artwork crew, or LOLA, will stage their upcoming holiday event this weekend at Van Go Mobile Arts, 715 N.J. Hours will be noon-7 p.m. Saturday and noon-5 p.m. Sunday.
This LOLA GIANT show will feature works by 25 area female artists. Products available will range from baby clothing to handmade soaps to pet treats.
The event will include a live DJ spinning tunes care of Love Garden Sounds and a coat check for your convenience. Area photographer Ailecia Ruscin will be setting up a photo booth.
There will also be gift bags giveaways and promotional coupons from several downtown retailers.
Kylie Grater, owner and creator of Early Jewelry, says LOLA shows are unlike other holiday crafting experiences.
"We really try to have quality product that's a little different and modern," she says.
Grater's jewelry incorporates natural elements featuring feathers, geodes, bones and intricate etchings on wood pieces. Her work both hints to the past while remaining fashion forward.
Other jewelers will also be on hand, such as Rachel Dempsey of RED Designs, who incorporates intricate beadwork into her bold and colorful earrings. Megan Embers of Feather Spring Arts creates lovely and timeless jewelry of natural stones, geodes and leather.
For those of you with babies on your list, look no further than the clothing of Traci Furan's Little Bluestem Baby. Her work features beautiful and edgy vintage print fabrics, hand detailing and screen prints. Baby blankets are one of Furan's best-sellers.
"My favorite feedback from clients is when they tell me, 'Your blanket is the one we cannot leave home without — it's my child's favorite,'" Furan says.
Stitchees creator Kristin Kinsch will be selling handmade sock monkeys worthy of bedtime cuddling, and Crown and Heart Crochet's Linnea Doores will have her crocheted hats for adults and children on hand.
For those cooks in your family, Kate von Achen's handmade aprons from her awava line will keep them clean during prep time.
As a thank you to those family members who will be seasoning the ham, the product line of Healing Moon Soaps offers a variety of options to leave behind as hostess gifts. Cynthia Walker's line includes soaps of lavender and rosebud, as well as a peppermint foot soak bath salt blend.
Even Fido will find something at the LOLA show, with dog biscuits by Good Dog! Biscuits and Treats.
The LOLA crew wants their customers to have fun, and Van Go is a perfect spot.
"It's a great space, it will allow us to have more people visit," says Grater, who along with several other LOLA members has spent time teaching children different art methods at Van Go.
See more at the LOLA blog at Ladiesoflawrence.blogspot.com.
More like this story on Lawrence.com