Originally published December 6, 2010 at 11:26 a.m., updated December 6, 2010 at 11:26 a.m.
There's a major economic downturn, the politicians can't agree on anything, and the jobless rate is soaring. It's hard to imagine a musical more prescient than Theatre Lawrence's "Annie," the orphan's tale set in 1933.
Annie's Republican billionaire Oliver Warbucks sums up the bitter political bipartisanship when he learns that he's having FDR over for dinner. "Call Al Smith and find out what Democrats eat!" he barks out, as if the opposing party consisted of a different species entirely.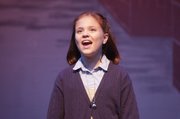 In many ways, Warbucks (Knute Pittenger) closely resembles the super-rich, iconic elites who dominate today's newspapers. He is a man whose heart has long ago frozen over, and it appears that the only person who can melt it is the spunky, ornery Annie, who is played by Lili Hull in half of the performances and Amy Nystrom in the other half. I saw Lili Hull in the Dec. 5 showing.
Pittenger plays an imposing Warbucks, with an assertive posture and booming voice. Rachel Gilmore plays his doting, ever-smiling assistant, and the two would make admirable pseudo-parents for Annie, unless Annie's villainous orphanage director, Miss Hannigan, has something to say about it.
Kayla Motley plays an emphatic and comical Miss Hannigan, singing and acting her part with exceptional energy and personality. She lends much-needed energy to the musical –– perhaps the best scenes come when she commands her abused orphans. "Did I hear happiness in here?!" she blurts out upon walking onto an excited, orphan-filled stage. Hannigan meets her match in Molly, a young but feisty orphan played by Bryn Kelly who has a habit of toe stomping. The other supporting orphans, mostly new to Theatre Lawrence, do an exceptional job of being pugnacious misfits, a motley band of sisters that has allied itself against the pitiless Miss Hannigan.
Charles Goolsby's directing often creates a dynamic stage, and musical direction by Annie Biggs gets the job done. Considering the mostly new cast, the ambitious nature of a show like "Annie," and the performance given, it's hard to have a bone to pick with Theatre Lawrence's delivery.
For an entertaining Miss Hannigan, a few other good performances and an uncanny reminder of how much the current economic and political situation mirrors that of 1933, "Annie" continues at 2:30 p.m. Dec. 11-12 and Dec. 18-19, and 7:30 p.m. Dec. 8-10 and Dec. 15-18.
More like this story on Lawrence.com