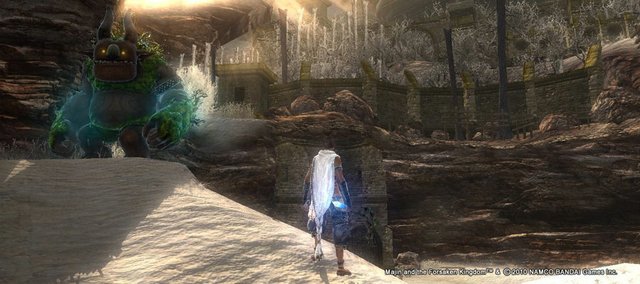 Originally published December 6, 2010 at 4:29 p.m., updated December 6, 2010 at 4:29 p.m.
I still remember the first time I played The Legend of Zelda. I was probably eight years old and even at that age the bright and colorful kingdom full of dungeons, secrets and enemies was enough to keep me hooked for months on end. That's the type of feeling I got when I first booted up Majin and the Forsaken Kingdom. A budget title from developer Game Republic, best known to me by the under appreciated PS3 launch title Folklore, Majin provides all of the content and a solid plot to compete with its full price competitors.
Over 100 years from the beginning of the game, a prosperous kingdom thrived under the watchful eyes of its rulers and a magical creature: the Majin. Darkness took over the land and the Majin was banished inside the castle walls as evil coated the kingdom and tarnished all of its beauty. Majin opens with you taking over a young thief named Tepeu as he breaks into the palace and awakens the big and powerful Majin. Once freed, the Majin joins forces with Tepeu to restore beauty and order to the kingdom. This proves to be no simple task, however, because the Majin has lost all of its powers and must slowly gain them back through power-ups. In addition, you must overcome large and hideous beasts in various dungeons to get all of the keys to unlock the castle gate.

In Majin, you control Tepeu and deliver simple commands to the Majin to team up and overcome obstacles and enemies. I hate escort missions in video games, something this title seemed to do exclusively, but the Majin doesn't act as someone you need to protect but rather your protector. When you issue commands the AI-controlled Majin responds with a seamless flow that has you performing cooperative tactics and maneuvers. At first it's kind of odd to be teaming up with yourself, but a couple hours in you're able to control both characters without so much as a thought. The kingdom is a large map with scattered dungeons to explore, much like the NES classic The Legend of Zelda, which can be amazing when you first visit an area and annoying when you're backtracking from beating a boss. Tepeu can't kill any of the enemies via a head-on encounter, so you'll have to decide whether it's best to perform a stealth kill or send your Majin into the fray. This battle mechanic helps you rely on the Majin early on, which is important for any boss battles and puzzles later in the game. Essentially Majin is one part platformer, one part puzzler and one part hack-and-slash all weaved together in an enchanting tale that you can't wait to uncover.
As fun and adventurous as Majin and the Forsaken Kingdom is, it's not going to be for everyone. If you were annoyed having an escorted partner that is controlled by the AI, think Enslaved or Ico, you'd probably best avoid this title. The Majin is responsive to your commands but moves with a sluggish pace, so you may have to run around and dodge enemies you want him to attack before he finally arrives. Most of the puzzles require a little time and perseverance to overcome, but there were a few that had me scratching my head for quite some time. Even worse, when I figured out the answer I didn't feel that sense of accomplishment that the developers intended, I just stared at the screen and said, "really?" Luckily any of the places you get stuck have probably been discussed on forums at this point, so feel free to Google search "majin" with whatever area you're stuck on (each area is labeled on the in-game map) and the answer will be there. I do encourage that you try as hard as you can to figure them out yourself, something I was able to do throughout the entire game, and forgive the frustrations of doing so. I also felt that the game became easier the later in the game I got, which makes sense from a practical standpoint because the Majin had more powers and Tepeu had leveled up, but generally this is not how it works. I'm guessing the developers didn't increase the difficulty to balance the enhanced powers, but given that Majin uses locked doors and gates to prevent you from going anywhere prematurely I don't see why they didn't. I know it sounds odd, but I was also disenchanted by the Majin's voice –– it basically sounds like Barney, the purple dinosaur. When you break him down, the Majin is a powerful and noble protector, but putting that deep fluffy voice on him makes him seem more like Lenny in "Of Mice and Men," completely unaware of the world around him. It doesn't seem like it would be that big of a deal, but you will hear the Majin speak with every command and cut scene (like every 5 seconds).

I wasn't quite sure what to expect from Majin and the Forsaken Kingdom. The game is definitely under the radar, most didn't hear about it unless they downloaded the demo, and shared a little appeal from a lot of genres. I have to say upon completion that I am impressed with it, especially considering it's priced at only $40. It took around 10 hours to complete and was an enjoyable experience from start to finish with a plot that is much better than most on the market. If you like adventure games, platformers or even strategic puzzlers, you will find a hidden gem with Majin and the Forsaken Kingdom.

Graphics: 8.0
Sound: 7.0
Gameplay: 8.0
Campaign: 9.0
Overall: 8.0
More like this story on Lawrence.com