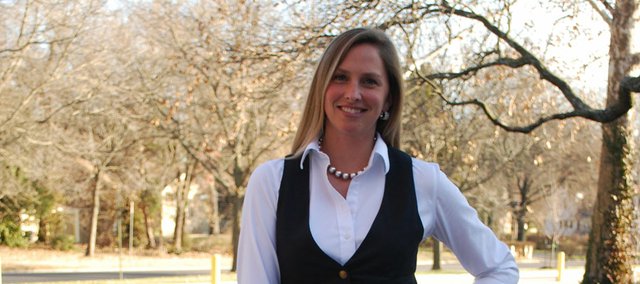 Originally published December 8, 2010 at 6:26 p.m., updated December 8, 2010 at 6:26 p.m.
Name: Keri Lauxman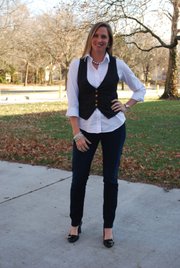 Age: 35
Sign: Cancer
Occupation: Teacher at Lawrence High School
Hometown: Kansas City
Time in Lawrence: 17 years
What were you doing when scouted? Breaking for lunch between classes
How would you describe your style? Teacher chic/Ready for anything.
Favorite fashion trends: Self confidence; moxy is timeless and looks great on everyone.
Least favorite fashion trends: Extreme business casual. Sure, yoga pants and a band hoodie have their place – trust me, off the clock, I'm all for it - but let's be honest, your workplace is not throwing a pajama party, people!
David Sedaris, writing about his observations of Americans traveling abroad writes, "Comfort has its place, but it seems rude to visit another country dressed as if you've come to mow its lawns."
What would you like to see more of in Lawrence? Vietnamese food, off-leash dog parks, block parties, film festivals, and local food grown and prepared by and for our schools' students (see the Lawrence Farm to School Project).
What would you like to see less of in Lawrence? Grown women dressed like teenagers.
Do you have any fashion influences? I'm more influenced by the weather and the venue than by what other people are wearing. Plus, I honestly have no idea what's "in" or "out"; I just get dressed and get on with my day.
Do you have any piercings or tattoos? Piercings? Just the usual. Tattoos? No. You don't put a bumper sticker on a Bentley. ;)
People say I look like: I've heard everything from Elizabeth Mitchell (Juliet from Lost) to Tom Petty, seriously. In college, I watched a guy painstakingly carve his way through a sea of people at The Bottleneck one night to tell me I looked like Tom Petty.
Tell us a secret: Take your pick. My name means "the dark one." I learned that in kindergarten. It was a life-changing moment. Others learned their names meant things like "beloved" and "graceful meadow"; I knew then, I was different.
Once in college, while racing to make a deadline, I ran spell check on an essay at the computer lab. Having replaced ALL spelling suggestions, including suggestions made for replacing the spelling of my name (Keri Morrison, at the time), I turned in my paper with the wrong name on it. Needless to say, Cherry Moron earned a less than stellar grade that day.
More like this story on Lawrence.com