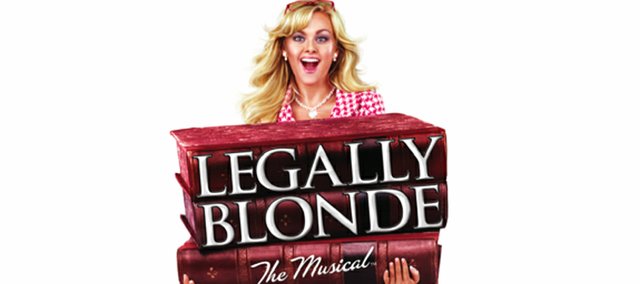 Originally published December 9, 2010 at 12:14 p.m., updated December 9, 2010 at 12:14 p.m.
There were many blondes, more women, and a lot of hot pink in the crowd at the Lied Center on Tuesday. "Legally Blonde: the Musical" was about to start. The lights went down and a cute voice told us to turn off our cell phones, please.
And then the torrent began –– cute women, cute men, cute pink props, cute pink lighting, an adorable dog, cute catch-phrases and comebacks, cute gay men, a cute lesbian, a cute band of multicultural cheerleaders donning cute uniforms that spelled out the cute heroine's name, and every possible permutation of cute, well-fitted, glamorous pink outfits. It was surreal. It was wonderful. It was awful.
On top of all this cuteness scampers the story of Elle, a college girl that follows her heart (her sleazy boyfriend) to Harvard Law School. It bristles with ideals of female empowerment, telling women that it's acceptable to be both cute and smart. But if one looks any deeper than the fluffy, pink cuteness, it is a story bent on simplifying and objectifying its characters.
The story comes from the novel and the motion picture, so it would be unfair to expect great art from the musical. But at the bare minimum, it shouldn't undermine the virtues that it tries to celebrate. The main issue lies with Elle.
In the courtroom, Elle practices law in an unusual way. She exposes a setup by discovering (through her sexually charged bend-and-snap method) that a witness is actually gay. She uncovers another liar through her knowledge of perms in the shower. At first glance, she seems able to use her "girly" knowledge and talents to further her career. But in actuality she reinforces more stereotypes about women than she dispels. This lawyer doesn't win cases because of her brain. She wins them by reading "Cosmo."
Elle and her new boyfriend embody the only two characters of the play; the rest are props. The supporting cast reproduces a ridiculous, culturally diverse brochure or advertising campaign, with the requisite spectrum of skin colors. They're all stereotyped. The lesbian angers easily, the Jewish girl totes a menorah, the ex-boyfriend-turned-model has nothing on the brain but sex, most noticeably Elle's bend-and-snap abilities.
In regard to performance, the traveling troupe gave us a ripping tale that commanded attention. The actors sang with piercing beauty, especially Elle, played by Nikki Bohne. The staging and set by Jerry Mitchell and David Rockwell outperformed sets featured in the recent "Fiddler on the Roof," also at the Lied. The bathroom court scene and salon scenes worked especially well. It was a well-oiled machine, a production that adopted the film's immediacy and talent for maintaining excitement.
Perhaps the most striking scene involves the UPS deliveryman and his "package." As he and his protuberance leave the set, one of the women in the salon gasps, "The new UPS guy is like walk-in porn!" The Lawrence audience seemed to agree, voicing their appreciation with cat-calls and more than one "Ow-owww!"
The courtroom scene also stood out, which prompted the question, "Is he European or is he gay?" Elle and her council teammates try to parse out a man's sexual orientation, and one on the council can't resist bringing up the point that he "might just be European." Yes, this is America; yes, we reveal the platitude of our intellects via such questions.
A flash of originality, perhaps even artistic touch, finally shoved its way to center stage at the end of the play: Elle proposed to her newer, better boyfriend. But the gesture came far too late.
Art challenges what we know, teaches us about ourselves or our worlds, and pushes us to act with the rest of society in mind. Entertainment, on the other hand, deals in comfort.
"Legally Blonde" strived for nothing else than entertainment, and it achieved everything it set out to do. It paraded beautiful men and women in front of us, had them endlessly exchange clichéd lines, and let us whistle and hoot at them before they left the stage. The audience gave it a standing ovation. It certainly made us feel entertained, made us feel comfortable.