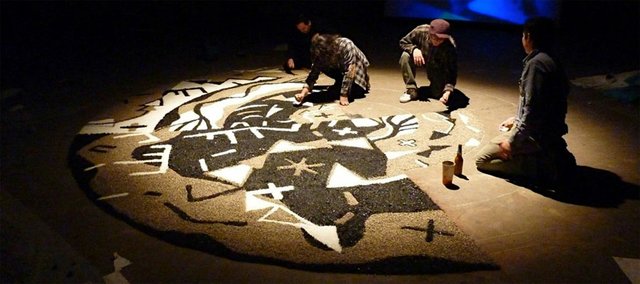 Originally published December 10, 2010 at 6:35 a.m., updated December 10, 2010 at 6:35 a.m.
Past Event
Friday, December 10, 2010, 8 p.m.
Stan Herd Studio, 512 E. 9th Street, Lawrence
Not available
Antlers rattle and collide, animal calls boom over loudspeakers in a crowded art space, geometric projects spin and twist and evolve on the floor, and somewhere within the chaos, music is made.
Postcommodity is an electro-accoustic performance art group that focuses on nature and the lost communion between people and the hunt. The group, which is made up of Kade Twist, Nathan Young and Raven Chicon, have assembled an audio/video performance art piece titled "Your New Age Dream Contains More Blood Than You Imagined."
It's a title that specifically evokes some visceral imagery, but Twist disagrees.
"There's irony there. The work that we're performing is a cycle of futurist Indian hunting songs," Twist says. "There's a disconnection that people have with the process with which we put food on the table. That process is important to Indian people."
The performance intends to address the stigma that hunting carries. Twist thinks that stigma stereotypes white hunters as rednecks and or wealthy sport hunters. To Twist, hunting instills a sense of community and stewardship that is universal.
The title of the piece originates from Twist's frustration with how American Indian culture is interpreted by outsiders.
"A lot of people who look at Indian culture have this New Age fantasy. They want to go to sweat lodges in Sedona and die in a tragedy," says Twist, referring to a 2009 sweat lodge incident in Sedona, Ariz., that killed three people. "They're trying to re-enact Indian spirituality when they have no context for it. They have no relationship with it, so they just take little bits and pieces that gratify their interests. There's a brutality to it."
The performance itself incorporates amplified deer antlers, multiple animal calls and geometric patterns found in American Indian culture. But the performance evolved from a simple acoustic arrangement.
"The piece has kind of taken on a life of its own. It vacillates between very acoustic and very natural and very dry, but it can also be very electronic at the same time," Young says. "Generally, we try to tailor our performance to the space."
Tonight's performance takes place in Stan Herd's Studio, 512 E. Ninth St., an intimate performance space. Despite the piece's malleability, Young says that very little of the performance is improvised.
Previous Postcommodity performances have incorporated a deer antler harp and a synthesizer made out of cougar pelt. This performance relies heavily on feedback, as Twist, Chicon and Young use the amplified, traditional hunting items to overdrive their monitors. This feedback is then translated into video information, which is then projected within the performance space. The trio respond to these projections by playing harmonious or dissident music, creating in itself another feedback loop.
"We each have our own battery of instruments. Some homemade and systems made from various effects," Chicon says.
The short-notice performance came about almost by accident. Postcommodity was expecting to scout out the Lawrence Arts Center for one of their visual arts series this fall. Representatives from the arts center asked if they were interested in performing while they were here looking at the location, and the group agreed. Come see the show for yourself tonight at 8 tonight. Admission is free.
More like this story on Lawrence.com