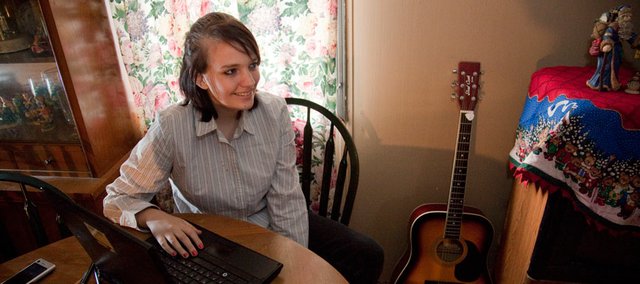 Originally published December 12, 2010 at midnight, updated December 12, 2010 at midnight
Amanda Randel has finally found her voice.
Only two years after bullying threatened to cause her to give up, drop out and waste her life away, Amanda is poised to get the last laugh.
The 16-year-old took her future into her own hands, saying goodbye to Baldwin High School and hello to completing high school virtually. Now, she's on track to graduate on time and is thrilled about the life she has in front of her.
"I would've dropped out before," Amanda says. "I'm 16, I probably would've dropped out right after the moment (I could). But now, no.
"Now, I'm more excited."
Her story isn't a new one — 2010 has been rife with national headlines about bullying kids taking a different route than Amanda's. Nationally, several teens have committed suicide after being bullied in person, over the phone or on the Internet.
The rash of tragic stories has gotten the attention of the Kansas State Board of Education. The board is set to meet TuesdayDec. 14 to discuss what the state can do to toughen up on bullying. A 2008 state law requires Kansas school districts to adopt anti-bullying policies. But that's not enough, says board member Walt Chappell, who told The Associated Press in November that the state's education system was failing kids like Amanda.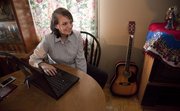 "Something has to be done," he said. "We have to provide some leadership."
Amanda says that she's glad she didn't wait for the system to catch up to her, and is glad she took bullying out of the equation.
The bullying started in her early teens and had reached a fever pitch by the time she was in ninth grade.
"It started in middle school. I started gaining weight and after that, everybody kept making fun of me, quite a bit. And because they made fun of me, I started fasting," Amanda says. "And it got so bad in high school that I ended up fainting."
After the fainting spell, her mother, Regina Randel, took Amanda out of school and rather than transferring to another high school or going the homeschool route, the Randels opted for virtual school. After a false start at another online program, they settled on Insight, a national virtual school with no cost to the students. Everything — from the computer to the books — is provided by the school. There's also another local online option, the Lawrence Virtual School, which helps more than 1,200 students, some of whom say they enrolled to avoid a bullying situation, says assistant head of school Jana Lloyd.
At her school, Amanda has a class schedule, and times she needs to be in front of the monitor of the little black laptop that sits on her kitchen table at the family's Lawrence home. If she can't make it to class, she has to make it up by listening to a taped session. She interacts with both her teacher and classmates in a chat format that has allowed her to make friends, just like she would in a normal high school class. The interaction has also allowed her to see the school's zero-tolerance bullying policy in action.
"If you even say something that's joking around with a student that might come across as offensive, the teacher right away warns (students about) it, and if it continues to happen, the teacher blocks the chat, so no one can talk," says Amanda, who notes the teacher also talked to the offending student virtually after class. "It's got to be done."
Seeing swift action taken during two bullying instances in her online classes has made Amanda feel more at ease, even though the taunts were not aimed at her. That increasing comfort level is important for children who have been bullied says Insight counselor Deserae Blanco.
"When you take away that stress factor that the bullying caused, it can — I mean, think about being a 14, 15, 16-year-old — that can play a huge factor in your everyday thinking of life," Blanco says of bullying. "When you take that away, you're able to put more focus into positive things and doing your work and being active and being social again without that worry.
Amanda says the stress of her old life is all but gone, though occasionally, she'll get pangs of understanding when talking with friends who are being bullied at their current bricks-and-mortar schools. She says she tries to help them by relaying her experience and what's she's learned.
"One of my friends is also getting bullied about her weight, and I just told her that, she's gorgeous. She's not a heavy girl. She's actually smaller than I am. And she's calling herself fat and dieting and it's crazy," Amanda says. "I mean, it's just crazy that people would do such mean things. Because I feel that bullies are more insecure about themselves and so, then they bring it on to somebody else."
After graduation, Amanda hopes to get into cosmetology school and also plans to pursue the passion that has helped her most in dealing with her post-bullying feelings: music. She taught herself to play the guitar in just two weeks and sings and strums whenever she's not studying. She even writes songs about her feelings and says both playing and listening to music has helped her deal with her past.
Now, her voice is crisp, clear and beautiful — just waiting to be heard.
"I see the world a lot differently now," she says. "I've learned a lot more in just life. I learned that what I did was for my benefit, and that a lot of people might see it as running away. And, really, it was just to get everything under control for myself. I feel better about myself."