Originally published December 12, 2010 at midnight, updated December 12, 2010 at midnight
Winter wanderings often take me to local greenhouses and garden centers. Despite the cold outside, I am greeted by the smell of potting soil, plants for indoor growing, and garden tools and gadgets to remind me of the upcoming growing season.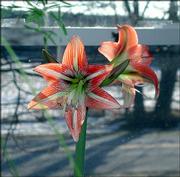 A recent garden center trip delighted me with a variety of amaryllis bulbs. Amaryllis, with its giant, star-shaped flowers, is just what I need to take the winter blahs away. Amaryllis will also go nicely with a blooming poinsettia and Christmas cactus already in my window.
Amaryllis bulbs produce large, colorful blooms and are easy to grow indoors even in the depths of winter. Amaryllis is from the genus Hippeastrum, which translates to "horse star." Blossoms range in shades of red, white, pink, peach and multi-colored varieties. Blooms are as large as 8 to 10 inches in diameter.
I am planting the brown, almost-grapefruit-sized bulbs in a pot only a few inches larger in diameter than the bulb, as instructed by many research-based plant care guides. According to instructions, only half to one-third of the bulb sits down in the potting soil. The top of the bulb remains exposed.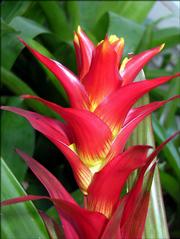 Once potted, I will water the bulb and place it in that warm, sunny window. Although I set my thermostat for energy savings over the comfort of my plants, amaryllis prefers 70-degree days and 60-degree nights. There is not a set rule about how long it takes for buds to appear, but all mature bulbs are ready to flower and should do so given the proper conditions.
When flower buds begin to show color, move the plant out of direct sunlight.
Amaryllis flowers often last an entire month, and sometimes second flower stalks appears as the first ones fade. Remove stems when they complete blooming to keep the plant from putting energy into producing seed.
Amaryllis bulbs produce leaves that typically appear about the same time the flowers begin to open.
My excitement continues in knowing that I can oversummer the bulbs. (Oversummering is my personal term to refer to the opposite of overwintering a plant. Poinsettias are another plant that can be kept alive over the summer and encouraged to re-bloom the following winter.)
To keep amaryllis bulbs for additional seasons, place the plant in a sunny location once it finishes flowering.
When all danger of frost is past (typically early May in Lawrence), plant amaryllis bulbs outside. The plant may be left inside its pot and simply sunk into the soil. Water and fertilize amaryllis bulbs throughout the summer as needed.
Since amaryllis bulbs are only cold hardy to states farther south, bring the pot in before frost arrives in the fall. Put it in a dark room and cease watering until leaves dry out. Bulbs need a dormant period of eight to 10 weeks before producing another flower and ideally are kept at about 55 degrees during that time.
After a dormant period, treat the bulb just like a new one. Bulbs can be re-potted each year, but they are also known to grow just fine in the same pot for several years.
Baby bulbs that form on the larger one can be broken off and planted, but typically take two to three years to produce flowers.
I am looking forward to big, beautiful blooms to brighten winters for years to come.