Monday, December 13, 2010
Whether you want to get ahead on spring trends, add variance to your current winter wardrobe or just try something different, set out on a quest to find a few new, perfect lifestyle items that will add instant character, culture and fun to everyday outfits. If you purchase something that truly reflects your personality or interests, you will appreciate fashion on a whole new level.
Upgrade your bag:
Invest in a bag that suits your individual lifestyle. You will be surprised by the amount of time, space and comfort you grant yourself by using the perfect carryall. Keep in mind your occupation, means of transportation and daily routine when you are selecting your bag. If you bike or walk frequently, for example, choosing the right weatherproof, sound material is essential; however, don't settle for a bag that doesn't suit your style. Although they may be harder to track down, aesthetically attractive, stylish messenger bags and backpacks do exist.
Switch up your eyewear:
Eyewear by the likes of Miu Miu and Prada have been wow-ing me season after season. The throwback shapes and bright shades are a fun, funky alternative to everyday, understated sunglasses without any loss of practicality. Versions made by Cynthia Rowley and Super may be more affordable options, depending on your budget. And if you just can't justify spending $145 on lime-green Ray-Bans, knock-off versions are easily located and provide an equally eye-catching, pleasing pop of color. Regardless of color, be sure to pick a shape that still complements your face shape.
Add bold jewelry: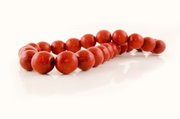 Although jewelry is very personal, it is fun to think about different ways to wear particular pieces. For example, I often think of jewelry as complementary to my apparel instead of an integral part of my entire outfit. If you are like me and want a change, try selecting your jewelry as if you were selecting your blouse; think about what colors might go with the individual piece. Consider matching colors, or create a pleasing background palette that highlights your necklace or pendant. It is fun to color-block your outfit with your jewelry (for instance, wear a white or black dress with a bright coral necklace and bright coral high heels). This funky, mod look will create clean lines that stand out. Look for painted wooden pendants in easy shapes, like circles or triangles, to start.
— Caitlin Donnelly can be reached at go@ ljworld.com.