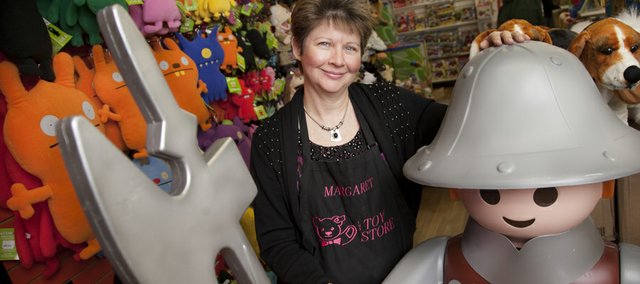 Monday, December 13, 2010
Santa's helpers aren't confined to the North Pole. Some work at 936 Mass., home to the country's largest independently owned specialty toy store. Between now and Christmas Eve, Toy Store owner Margaret Warner and staff will be on high alert to ensure Santa knows exactly what area children want on Christmas morning.
"I love Christmastime," Warner says. "My childhood imagination allowed me to believe all things are possible in this magical season."
Warner dreamed of owning her own toy store while working at her mother's new 700-square-foot toy store in Topeka.
"At 14 I was my mother's only employee," she recalls.
"I earned $3 an hour and worked every chance I got. I was the luckiest girl in the world."
She graduated from Washburn Rural High School in 1980, enrolled at Washburn University to study business, but left to manage the toy store full-time when her mother became seriously ill. Her father, realizing his wife wouldn't recover, decided to sell the store.
"I purchased it from him at the tender age of 22," Warner says.
"I'd been an employee for eight years, knew everything about the business side, and had planned expansion and developments."
She hired her first employees, attended toy conventions in New York and Europe, and focused on business growth. Within five years she opened a second Topeka store. When the city acquired the original store for parking in 2001, she purchased the 20,000-square-foot Litwin building at 5300 SW 21st St. in Topeka.
"It was a massive financial undertaking," she concedes. "But I had a vision it would work and felt very confident about the store's future."
Her risk paid off. Business flourished, staff increased, and she won a national (toy store) award for outstanding merchandise and promotion.
1992 was pivotal. She computerized.
"Technology terrified me, but I knew it was the way to go," she admits.
"I invested heavily in the very best computer system. It tracked sales, inventory, and, the greatest time-saver, it printed labels."
In 1998, after the Toy Moon store in Lawrence closed, Warner opened a Lawrence store at the former Winfield House. She purchased the Everything but Ice building — her current location — in 2005, and when the Children's Book Store closed she converted the basement to house the books. The 10,000-square-foot store has plenty of room for children to play, interact and use their imagination, and for the classic toys and books unavailable in the mass market.
"Everything's possible in a toy store; it stirs the imagination," Warner says.
"My favorite reward after 35 years in business is in knowing I've helped two generations of kids growing up. Recently a grandmother came in and we discussed toys, including a table and chairs she'd bought for her daughter 30 years ago. As she described the set, I remembered it exactly. Today she bought a doll and tea set for her granddaughter to use at the same set. Now that's exciting. Knowing we're sending parents home with helpful tools for their children's growth and knowing those toys become part of cherished childhood memories, that's a gift."
— Eileen Roddy can be reached at eileenroddy@sunflower.com.