Originally published December 16, 2010 at 5:27 p.m., updated December 16, 2010 at 5:27 p.m.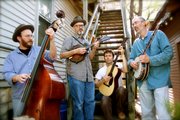 Past Event
Friday, December 17, 2010, 7 p.m. to 10 p.m.
Liberty Hall Cinema, 644 Massachussets Street, Lawrence
1+ / $10 - $12
This Friday's Holiday Hoedown marks the performance's eighth year. The annual event put on by members of the The Midday Ramblers and The Wilders features local country, bluegrass, honky-tonk, and blues luminaries playing a variety of reworked holiday faithfuls along with a few originals to a more-than-happy-to-be-there audience. It's a fun, spontaneous production that harkens back to old-fashion variety shows and even early vaudeville.
But this year planners of the hoedown (or is it hootenanny?) has something new in store for attendees eager to dance their way into the holiday spirit. This is the first time in the show's eight-year history that will be a benefit.
"We're really excited about making this a benefit show and hopefully help out people less fortunate than ourselves," Paul Schmidt from The Midday Ramblers and Holiday Hoedown organizer says. "Hopefully that's another tradition we can continue as well," Schmidt adds.
The charity in question is Adopt-A-Family, a non-profit organization that pairs volunteers with families in need of food or gifts. Currently about 500 families have been adopted, but more than 250 still remain.
This Holiday Hoedown also marks the first appearance of The Phantoms of the Opry, a country/swing band from Kansas City and MAW, an outstanding Lawrence band that specializes in no frills bluegrass. Hoedown regulars The Wilders won't officially be on the bill, but members of the band will sit-in with various acts throughout the night. And The Wilders' fiddle player Betse Ellis will be the show's master of ceremonies.
Also returning is Nick Schmiedeler as DJ St. Nick. Schmiedler will spin holiday songs from the time the doors open at 6 p.m. to when the show begins at 7 p.m. While Drakkar Sauna, another hoedown regular, won't be in attendance, Jeff Stoltz, one half of the band also will be sitting in throughout the night. As will Chris Millspah of the now defunct Red Lefty.
While Schmidt isn't opposed to the idea of adding sketches or additional features to the hoedown, for him, it's all about the music.
"I've just been having so much fun. Just more and more fun at these things. Every year it just seems to be getting better and better," Schmidt says.
The 8th Annual Holiday Hoedown starts tonight at 6 p.m. at Liberty Hall, 644 Mass. Tickets are $12 at the door, but tickets fo children under 12 are only $1 or a canned food item, your choice.
More like this story on Lawrence.com