Originally published December 16, 2010 at 2:08 a.m., updated December 16, 2010 at 2:08 a.m.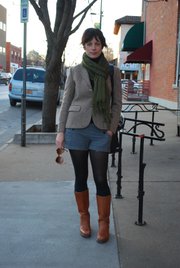 Name: Kirsten Paludan
Age: 38
Sign: Aries
Occupation: musician
Hometown: Lawrence
Time in Lawrence: I was born and raised here, and I just moved back two years ago.
What were you doing when you were scouted? Having a drink at the Pig.
How would you describe your style? Simple and classic with an artsy edge.
What are your current favorite fashion trends? I love the return to lady-like fashion right now. Women are dressing less disheveled, more polished and sophisticated.
What are your least favorite fashion trends? Juicy Couture sweatpants—well, sweatpants in general—worn in public.
What would you like to see more of in Lawrence? I think Lawrence is almost perfect, but if I had to pick one thing I'd say more live music venues.
What would you like to see less of in Lawrence? Bad student driving.
Do you have any fashion influences? I observe the personal styles of my friends and look to vintage clothing for its attention to detail.
Do you have any piercings or tattoos? Nope. Well, my ears are pierced, but that's it.
People say I look like: Andie McDowell. And when I wear a blonde wig I look like Uma Thurman. Typically, people tell me I look like someone they know but they can't think of the person.
Tell us a secret: I am an obsessive-compulsive cleaner, even at other people's homes!
More like this story on Lawrence.com