Monday, December 20, 2010
Baking math problem of the day: If you have a six-pound can of pumpkin, how many eggs do you need?
Answer: a dozen.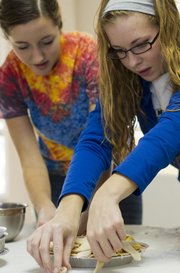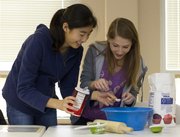 Just ask Free State senior Maya Windle, West freshman Jodi Moore and West seventh-grader McKenzie Goodack.
At 9 a.m. on the Saturday before Thanksgiving, 20 Youth Volunteer Corps participants gathered at the United Way building to make 16 apple and pumpkin pies for the Lawrence Interdenominational Nutrition Kitchen's (LINK) Thanksgiving dinner.
The students were set up in stations: pie crust makers, apple peelers/slicers, pumpkin pie fillers and apple pie fillers. Those not helping at a pie station washed dishes or decorated Christmas cards for soldiers.
Windle, Moore and Goodack were in charge of the pumpkin pie filling and figuring out the ingredient conversions for a the huge can of pumpkin. It was no problem for these girls.
This is the second year for the Youth Volunteer Corps program — for 11- to 18-year-olds — and the second year the program has made the pies for LINK.
"I think it's so great because so many of the kids have never even made a pie, and yet we are all working together to give to somebody else," YVC coordinator Valisha Nelson says. "It's the spirit of giving also. Because not only are they learning something, but they are helping others."
I dropped by to talk to the students and help out a little bit. And I do mean a little bit. Even though many of them hadn't made a pie before, these students executed pie-making techniques flawlessly.
I joined the pie crust makers. Southwest Junior High freshmen Yihan Li and Lisa Volkin had never made crusts from scratch before, so I gave them a little guidance. An "add a little more water" here and a "roll it back onto the rolling pin like this" there. Once they got warmed up though, they were crust-making machines, fluting to perfection.
Free State juniors Ashely Rasmussen and Paige Kallenberger, on the other hand, were well-versed in crust making. They even improvised and used the handle end of a fork to make lattice tops. Both of them enjoy baking at home and were happy to help LINK.
"This is just a nice way to pass it on," Rasmussen says.
Free State sophomores Kane Eggers and Thomas Boatwright helped out with the apple pie filling, adding the perfect amount of cinnamon and sugar to compliment the apples.
Boatwright was just getting started with his holiday baking.
"My mom's making me make a cake for Thanksgiving," he says.
— Read more about Copy Editor Nikki Overfelt's baking escapades at http://adventuresinbaking.posterous.com.