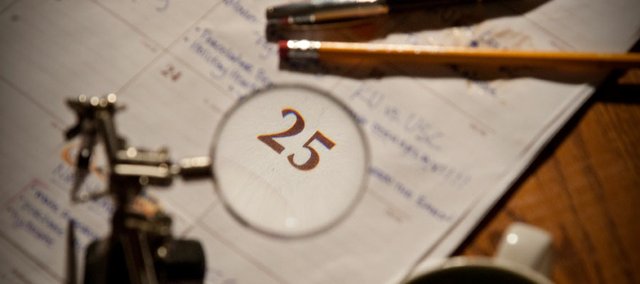 Originally published December 22, 2010 at 12:17 p.m., updated December 22, 2010 at 12:17 p.m.
Lucy White's Christmases are always the same.
But that's not because she has a ritual of heading to Grandma's house for a turkey, cookies and presents.
Nope, they're always the same because they're spent just like any other day: at work.
White and her family own the Panda and Plum Garden, a Chinese restaurant at 1500 W. Sixth St., and Christmas Day, they'll all be at work, and working furiously. White says the holiday is probably the restaurant's busiest day of the year.
"We need to help a lot of members of the community because a lot of them are not Christian people, and they need a place to go," says White, who, herself, is Buddhist. "That is our busiest day. A lot of Christian people, Jewish people, Buddhist people, or Muslims, they all come here. We always provide a service to the communities."
For many in town, Christmas is a time to get together with family, have a good meal, maybe go to church or travel a good distance.
But for some like White, it'll be a day just like any other. For White, the only differences that mark the day are the number of customers and the fact that the restaurant does a big family-style holiday meal after it closes for the night, so that some of the Christian staff members can do something fun on the holiday.
Barbara Graack's Christmas will be a lot like her Thanksgiving — spent in the ER at Lawrence Memorial Hospital, 325 Maine St. Graack has worked for the hospital for 19 years, and every other year, she works on the holiday. Not that she minds too much — her kids are grown and she loves the fact that the staff is served a traditional holiday meal.
"Actually, it works out good, because my brother, who I live with, he takes off and goes to his family, so I'm stuck at home by myself anyway," Graack says. "So, I can come in here and have a good meal, they feed us a good meal. It's nice."
Over in the cafeteria, Cami Halloran will be working to make sure those hospital workers get fed on Christmas Day. Halloran, a cashier, says she's fine with clocking in on the holiday because her coworkers are helping her still make her family get-together in Topeka.
"I figured if I had to work it, that would be all right, I really like my job," she says of her reaction to finding out her schedule. "I was fine with it because I'm still going to go to my family thing. (I'll) leave a little bit early to go to that because the other person who is working is coming in to cover."
For those looking for something different to do on Christmas Day, there are a few things to do in town, whether you're celebrating the day or not. Both Liberty Hall, 644 Mass., and the Hollywood Southwind 12, 3433 Iowa St., will be open for business, giving you an opportunity to catch buzzworthy films like "Black Swan" and "True Grit."
Andy Morton will host a special trivia night — A Very Smackdown! Christmas — at 8 p.m. at Conroy's Pub, 3115 W. Sixth St., for those in need of something more social than a night on the couch with "The Santa Clause."
"A lot of people look for things to do on Christmas night because they've been stuck with their families for a day or two," Morton says. "I'm providing a safe house."
Though Morton has done special Christmas-themed trivia nights before, but never on the day itself.
"I have no idea who may be coming," he says. "It might turn out to be me sitting in an empty room wearing a Santa hat."